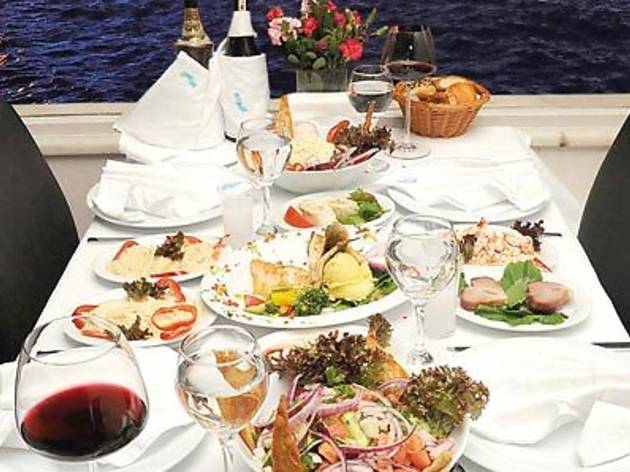 Some may think the Anatolian side is lacking in good fish restaurants... Those people have apparently not visited Bey Balık yet. This restaurant, which opened right across from the Beylerbeyi Pier offers you the perfect place to enjoy reasonably-priced fish in an elegant environment. The wooden mansion that was home to Turkish author and poet, Necip Fazıl Kısakürek, served as Robert's Coffee until it was restored and reopened as Bey Balık. The view is spectacular, with the Bosphorus waters that extend out to the Fatih Sultan Mehmet Bridge right in front of your nose. The two-storey restaurant is spacious and filled with light, with paintings of old Istanbul lining the walls. There is a half-covered section downstairs preferred by smokers.
There are both A la Carte and set menus, depending on your preference. The sea bass stuffed with salmon and shrimp, as well as the sea bass marinated in vinegar and olive oil, are must-try cold meze dishes. Delectable warm meze essentials include grilled calamari with soy sauce, fish kokoreç (seasoned and skewered fish) and shrimp cooked in butter. The lobsters, crabs and shrimp are all prepared fresh at Bey Balık; no frozen ingredients are used. Depending on the season, you'll find all kinds of fish here, from bluefish and mullet, to dentex and red snapper. After all of the meze, warm appetizers and fish, be sure to leave room for dessert, as Bey Balık offers a variety of dessert that's rare for a fish restaurant. Honey-coated banana, semolina dessert with ice cream, ekmek kadayıf (baked bread dough soaked in sugary syrup), şekerpare (small cakes with syrup)... If none of these tempt you and you want to try the traditional helva after fish, Bey Balık offers that, too. We're told Bey Balık will also provide boat service for guests coming from the European side during the summer months, but that doesn't mean you should wait until then to enjoy reasonably-priced fish in a historic mansion!
Menu
Marinated sea bass 8 TL
Grilled calamari 15 TL
Shish sea bass 25 TL
Warm helva 6 TL
Venue name:
Bey Balık
Contact:
Address:
İskele Caddesi 11, Beylerbeyi
İstanbul


Opening hours:
Daily 12.00-00.00.