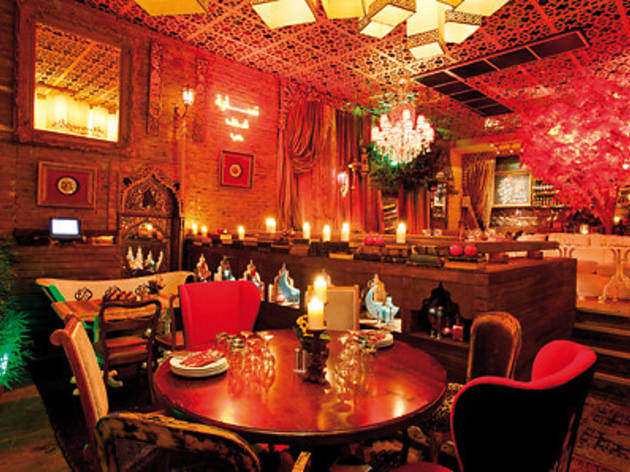 Beyrouth Cafe & Club delivers the most selective tastes of Middle Eastern, Arabian and Meditterranean Cuisine with a modern touch. As the name suggests, the venue is part-cafe, part-club, where people socialise calmly during the day and let it all hang out at night. Let's start with the day.
The menu at Beyrouth Cafe & Club is quite extensive, with cold and hot meze, burgers, salads, pasta and risottos, pizza, pide and lahmacun (thin dough topped with minced meat, aka Turkish pizza), main courses and desserts. Eclectic combinations are abundant, like guacamole flavoured with Lebanese herbs, eggplant salad with hellim cheese and lemon thyme, sambusek with spinach and cheese and falafel with grilled eggplant. Take the 'alt üst muhabbetler' featuring eggplant and goat cheese – the perfect combination of sweet and salty. If you veer towards the pasta and risottos, we particularly recommend the grilled eggplant risotto. Look past the pide with minced meat musakka (cooked with onions and vegetables) and the Abu Dhabi pizza (featuring Caesar salad and chicken döner) to the pizza soufflé, where fried eggplant, goat cheese and rocket dance on top of ballooned pide. It's a pleasure both to behold and to eat.
As for the main course, give Beyrouth steak some priority; the tender meat goes so well with babagannuş (a meze of grilled eggplant, tahini and lemon) that you'll reach neither for the hot sauce nor the mustard. For an authentic Lebanese taste, try the maklube prepared with eggplants, stuffing rice and oh-so-tender lamb. And even if you're not in the mood for dessert, you should still check out the menu of desserts with 'but's – like Beyrouth bohça (dough gathered to look like a bundle) but made with crepes, revani (sweet semolina cake) but with pumpkin and mascarpone cheese, panna cotta but with black plums and yogurt...
Beyrouth has a nargile (water pipe) menu that's just as impressive. Here, nargile are called shisha, with unique fruit juice, champagne, vodka and whiskeyflavoured ones available. The menu even offers shisha by the horoscope. As the day moves into night, the venue transforms into the place to see and be seen. People appear as if they've just left the ball or a wedding as they try all the items on the cocktail menu one at a time. The music moves from Arabic to Turkish, and the signature belly dancer shows of Çapa venues begin. Even if you've sworn against having a good time, you find yourself swaying shortly afterwards.
FROM THE MENU
Alt üst muhabbetler' with eggplant and goat cheese 17 TL
Falafel with grilled eggplant 17 TL
Risotto with grilled eggplant and zahter 25 TL
Beyrouth steak 42 TL
Beyrouth bohça but made with crepes 15 TL
Fruit juice nargile 25 TL
Venue name:
Beyrouth Cafe & Club
Contact:
Address:
Süleyman Seba Caddesi 42-46
İstanbul


Opening hours:
Mon-Sat 12.00-02.00.