Bi Nevi: A Revolution in the Kitchen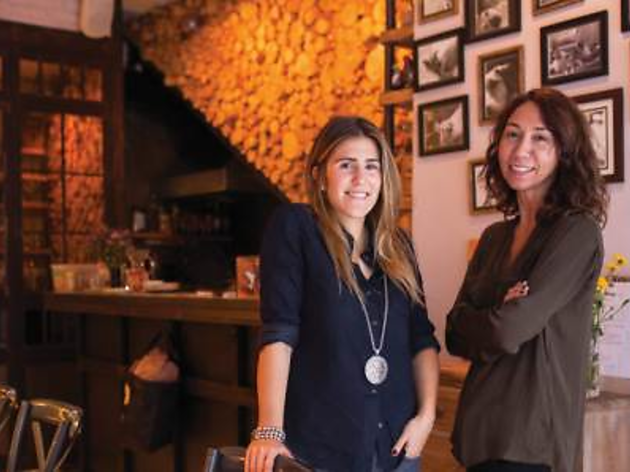 Belkıs Boyacıgiller and Özge Şen, arrived here from Turkey in 2005 following their dreams after starting a career in the financial sector. These two young women who love eating healthy not only want to set up a place in Karaköy but change the eating habits of Istanbul at large – an idea as brave as it is exciting. Belkıs Boyacıgiller began researching the impact of healthy eating with a sense of mission and urgency after the death of her father – who suffered a heart attack.
With her involvement in the kitchen at Bi Nevi, Belkiş, who studied to be a nutrition expert at Cornell University and learnt cooking via an internet course at Rouxbe, has begun to turn a long-time passion into a career. In New York, she launched an Instagram account with her sister called Bebinthekitch, where they posted photos of food that was both delicious and healthy. This turned out to be the founding step towards opening Bi Nevi. Bi Nevi's first founder (in December 2013) was actually Özge Şen, who volunteers for animal protection groups, and is vehemently against meat and animal products.
Her intention by starting the venture was to show how versatile vegetarian food could be. The partnership developed when the restaurant was arrived at by Belkıs who asked if she could add a few of her own recipes to the menu. After a chat, Özge's reply was simply, "don't just add one or two recipes, let's work on this together. I want to see how this works." "I felt like I'd past the point of being someone just cooking at home and noticed I'd really improved myself," says Belkıs, claiming to have witnessed a remarkable change in the eating habits of Turks. She gives the example of a taxi driver she spoke to recently who told her "'Miss, today I've got to earn a lot, because my wife needs red meat to up her protein." I told him to get her some lentils instead, they have protein and they are also cheap.
In Turkey, the idea seems to be "If I've got the money, why go cheap?" The menu changes with the season, but whatever is being served, the chefs have practiced a lot, making fifteen tries or more, to get the recipe perfect – even for hummus. Bi Nevi's rare specialty is definitely the pumpkin pasta dish, a God-send for any vegan. The lemon and blackberry cheese cake is also contains delicious dates. The carob crumbs coconut and rice Bi Nevi crunch is also rather lovely. Without meat, the menu finds strength in having explored new territory in the search for flavor. "We do Mexican wraps with red pepper, mushroom, onion and spices, instead of meat, we used broad beans and add spices.
They buy all the ingredients themselves, the only troublesome ingredient to find being the avocado. The quality is obviously fresh and organic – with every care taken to avoid all genetically modified products. To pump some life into your average Sundays, they prepare a special Vegan brunch. For those who can't imagine a Turkish breakfast without the traditional cheese, a cream cheese made from kaju is even available. By Nihan Bora
Venue name:
Bi Nevi: A Revolution in the Kitchen
Contact:
Address:
Necatibey Caddesi, Karanlık Fırın Sokak, 5/A, Karaköy
İstanbul


Opening hours:
Open Every day 12.00-22.00 apart from Sundays (11:00-15:00)