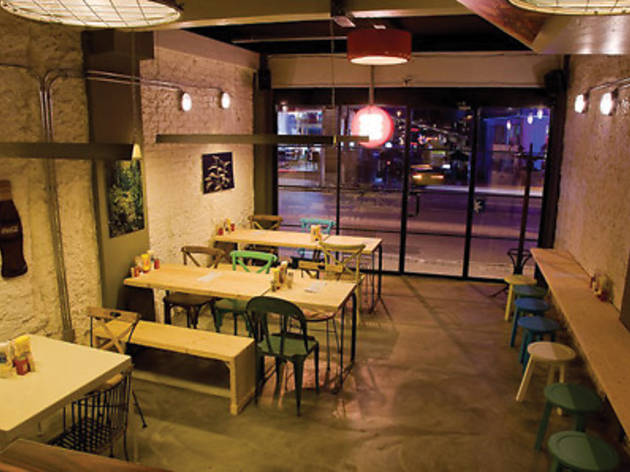 Time Out says
From what we can tell based on the menu, Biber Burger is trying to find its own in a mostly-mainstream burger market. The basics are all in place here. You can choose from five hamburgers (Biber burger, Romesco, Amarillo, Louis, Roquefort and Classic) or the chicken burger, or you can opt for the 180g meat patties, which are thick, filling and, to our delight, juicy. The breads also win our seal of approval, as do the caramelised onions, which aren't overly sugary or molasses-flavoured like in many other joints. The fries arrive crispy yet soft-centred, and each table gets served the restaurant's namesake dried peppers ('biber' meaning 'pepper' in Turkish).
What set Biber's hamburgers apart are the sauces and cheeses. Our favourite offering at Biber, the Romesco gets its name from the romesco sauce, made with almonds and red peppers, which suits the cheddar cheese quite well. The Amarillo burger features Edam cheese and aji amarillo, a sauce that incorporates jalapeño peppers and Parmesan cheese. The multitude of cheeses isn't overwhelming but tastes just right. The Louis burger (14.50 TL), by contrast, blends the sweet red pepper and French onion flavour of Louisiana sauce with cheddar cheese and mushrooms. The result is satisfying. While we're at it, let's clarify that Biber isn't on some sort of mission to offer only pepper-based sauces, as is evidenced by the Roquefort burger (16.50 TL). Since the sauce is naturally heavy, pairing it with cheddar is a bit of an overreach, and it overwhelms the burger.
Yet if what you're after is that simple taste of succulent char-grilled meat, you can't go wrong with the classic burger (14 TL), a simple flavour paired with greens, tomatoes and onions as well as garlicky mayonnaise and barbecue sauce. The chicken burger (13 TL) doesn't feel like a cop-out, either: a cheddary concoction with sautéed mushrooms, it manages to hold its own. One last note: 180g burgers are the only option now, though we hear smaller versions will be made available in the upcoming days.
Details