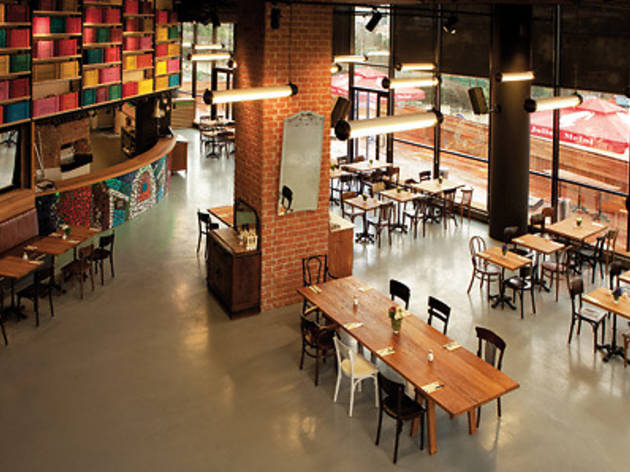 An Otto opened in Ulus that isn't exactly Otto. How so? Well, Bloom located on the top floor of the Carrefour on Ambarlıdere Caddesi in Ortaköy, reflects the hip atmosphere of Ottos, yet it offers a different concept. Bloom -opened by the owners of Otto- has a spacious atmosphere and high ceilings, yet its best feature by far is its wide terrace. A variety of trees have been placed on this terrace, like grapefruit, olive, pomegranate and orange trees, as well as bamboo, geraniums and spring blossoms... It looks like this vibrant green terrace will be very popular during the scorching summer months.
When asked why this place is not called 'Otto' but 'Bloom' the owners reply that Bloom's new location has a different vibe, a different soul altogether. As the name implies, Bloom is Otto's blossomed version; even though Bloom will also offer a lot of entertainment, it will be a little more low-key and mellow compared to the other Ottos. Bloom is more likely to be known for its cuisine.
In fact, one of the slogans for the restaurant is 'Diverse Tastes'. There are two brick ovens in the kitchen: one for pizza and one for other dishes. The kitchen coordinator of all of the Ottos, French Jean Pierre Levy helped create the menu for Bloom, as well. The tas kebabı (meat and vegetable stew), köfte (Turkish meatballs) with kaşar (Turkish yellow cheese), grilled salmon and oven-roasted duck are the first dishes that catch our eye. The panzanella salad we taste is very light. The burgers have 180 grams of meat for body builders or people looking for some protein intake. Since there are a lot of families with children living in Ulus, Jean Pierre also added a children's section to the menu. We taste a portion of the 'diverse tastes', accompanied by Jean Pierre. We start off with Piero's mozzarella pizza made with ovenroasted tomatoes, caramelised onions, black olives, capers and basil. You may order the pizzas small or large. We follow it up with a duck burger with caramelised onions, mushrooms and a drizzled sauce made with soy sauce and butter. If you are used to the taste of duck, this burger is pretty good.
We order katmer (crispy flaky pastry) served with pistachios and ice cream. It is crisp, and we can't get enough of its crunchy goodness. To be honest, we are a little surprised to see a local dessert from the Antep region of Turkey here. Another aspect that sets Bloom apart from the other Ottos is its breakfast menu. Breakfast is served until 11.00 with a rich menu of omelettes, poached eggs served with sautéed mushrooms and potatoes, a breakfast plate, paninis and muesli with walnuts and yogurt. On Sundays, Bloom offers an open buffet from 10.00-14.00 for 37 TL. Otto's signature drinks, along with others, are served at Bloom, as well. We advise you to stop by its majestic bar during rush hour.
From the menu
Breakfast plate 15 TL
Panzanella salad 22 TL
Duck burger 26 TL
Piero's pizza 18 TL
Katmer 12 TL
Venue name:
Bloom
Contact:
Address:
Ambarlı Dere Caddesi 6, Ortaköy
İstanbul


Opening hours:
Daily 09.00-02.00.