Bosphorus Brewing Company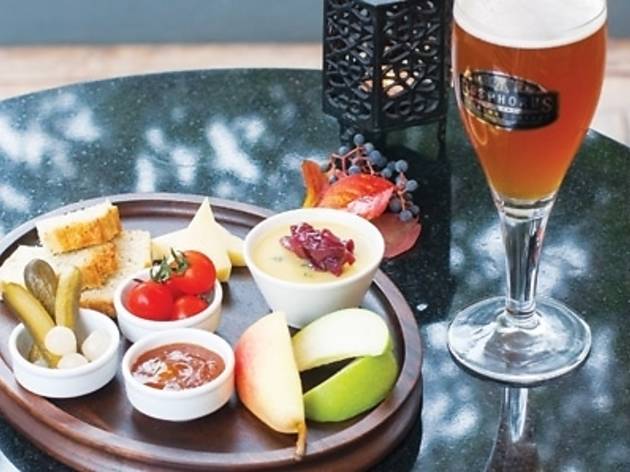 Time Out says
The Bosphorus Brewing Company is a project that's been in the works for upwards of two years. The idea originated when Englishman Philip Hall came to Istanbul about seven years ago. A two-year contract with a chemical company turned into a permanent settlement here, and it was during that time that Philip – out of a desire to taste the British beers he couldn't find here – started brewing his own beer at home. Once his son was finished with grade school, the duo set out to offer expats as well as Turks who've spent time abroad a taste of England's pub culture in their very own brewery, purposely situated in a less tourist-ridden part of town to attract just the right clientele.
As soon as you walk in through the large, ornate doors, you'll notice the long wooden bar and stools, perfectly reminiscent of an authentic London pub. There are also sit-down tables and a large leather couch in the back, though on our visit, almost all of the patrons were still happily drinking and dining next to the outdoor heaters in the garden.
The two ginormous kettles behind the bar are only the tip of the iceberg: here, about 5,000 litres of beer are in the process of fermentation at any moment, in a row of smaller kettles hidden upstairs. Philip walks me through this mad scientist's cave of sorts, explaining the rather complicated and time-consuming process of boiling, sterilisation and fermentation. At Bosphorus Brewing Company, none of the beers are filtered, I learn, while all of them are made with hops imported from Norfolk. Here the focus is on ales, which take anywhere from ten days to three weeks to master, while the lagers take longer, at around 60 days a batch.
The most popular beer here is the IPA with reduced bitterness, cleverly renamed the Istanbul Pale Ale. Another popular draft beer is the İçmedik, an ale with a lager finish that miraculously does away the smell of beer from your breath – a perfect lunchtime option, if you ask us. The BBC's top lager, made with eight different malts and hops, is called '81', a tongue-in-cheek reference to two of life's greatest pleasures when read aloud in Turkish. Philip and company also welcome suggestions, so if you're craving a particular kind of beer, you can contact the BBC about two weeks prior to your visit and they'll put it on tap – if it proves popular, you just might find it included among the standard brews on your next visit. Perhaps best of all, the beers come with a very democratic pricing scheme, all of them offered at 10 TL.
The menu is kept to pub favourites, with several salads, sandwiches, mains and desserts thrown into the mix. The beers are matched to the food through symbols, something you might be accustomed to from wine-focused eateries. This being a pub, the most popular option is of course the fish & chips (29 TL) – a perfectly portioned serving of beer-battered light Norwegian white fish, impeccably fried chips, malt vinegar and mashed peas. If you're in the mood for something heartier, you could also opt for the lamb curry (38 TL) or Ploughman's Platter (22 TL). As for dessert, you'd be well advised not to miss out on the sticky toffee pudding (18 TL).
We're unapologetically thrilled that BBC is now a part of our lives – and judging by the popularity of their first couple of Sunday roasts among the expat population, we aren't the only ones.
Details