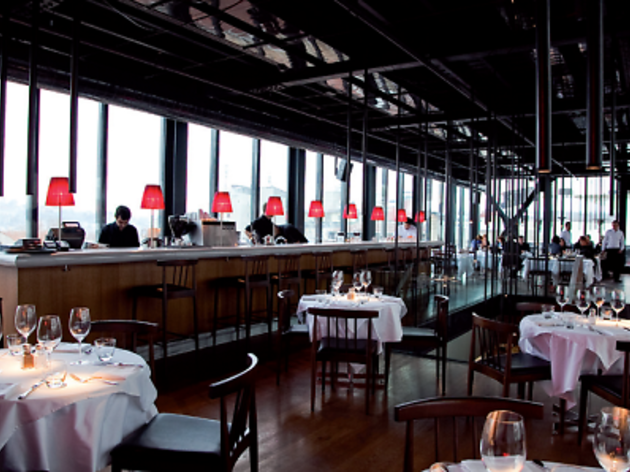 Ca'd'oro recently took up residence on the ground floor of SALT's 'new' building (which actually dates back to 1892, designed by French-born Levantine architect Alexandre Vallaury for Bank-ı Osmanî-i Şahane, known today as the Ottoman Bank) on Bankalar Caddesi. The restaurant owes its cheerful atmosphere to Ağa Han Award-recipient architect Han Tümertekin, who also took on the project of renovating the building for SALT Galata. The first floor is a cafe that seats 55 people, while the top floor is a spacious restaurant offering a menu that was overseen by French chef Julien Maisonneuve. The young chef on duty here is Yasemin Ataman, who got her start working in a seafood restaurant in Norway before receiving an MBA from New York's Cornell University and getting trained at a Daniel Boulud restaurant that boasts three Michelin stars. Upon returning to Istanbul, she worked at the likes of Anjelique, Vogue, Kitchenette and Mama before taking up post at SALT Galata.
She sums up her mission at SALT Galata by saying that she wants to 'blend Turkish cuisine with the ingredients and presentation of world fare', but she insists this isn't fusion. So the hamburgers come with tombik döner bread, oven-baked the moment you place your order for a distinctively Ca'd'oro touch. The salted sea bass is particularly noteworthy in its cooking technique: a single fillet is placed on a block of salt, covered with thin lemon slices and steamed in the oven for 10 minutes to achieve ultimate tenderness. The fennel salad with kalamata olives and eggplant capanatte salad – with all of its bitterness extracted by laying it in salt for 24 hours – served alongside the sea bass turn the dish into a symphony. Fried calamari served with wasabi-cabbage salad is another favourite on the menu, so fresh that you almost want to skim off the crispy flour-egg mixture and focus on the calamari within. As for dessert, we particularly recommend the caramelised pumpkin kadayıf (oven-baked shredded pastry soaked in syrup) and the tart tatin, a whole new take on syrupy quince dessert. All you ice cream fans out there will be happy to know that Ca'd'oro also produces its own daily ice cream. Make reservations for brunch on the weekend, and be sure to check out Hüseyin Bahri Alptekin's personal library while you're there.
FROM THE MENU
Grilled artichoke 29 TL
Pizza with keş cheese and eggplant 13 TL
Veal schnitzel 39 TL
Salted sea bass 28 TL
Caramelised pumpkin kadayıf 14 TL
Venue name:
Ca'd'oro
Contact:
Address:
SALT Galata, Bankalar Caddesi 11
İstanbul


Opening hours:
Kitchen open from 10.00-23.30, bar open till 02.00 Tuesday-Sunday.