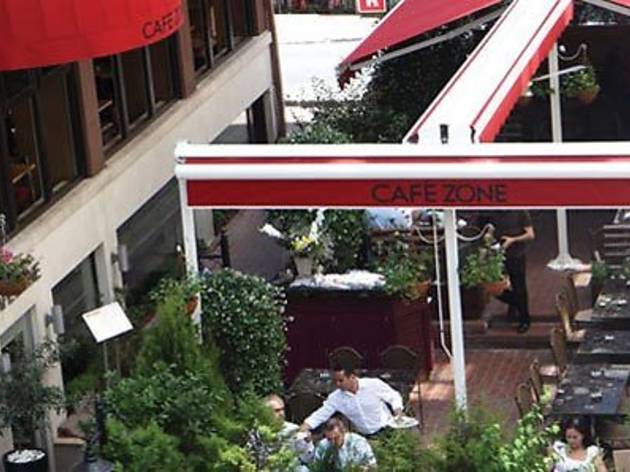 Time Out says
This chic two-storey café is located on a side-street off the busy Valikonağı Caddesi. As you enter the restaurant below street-level, the first things you notice are the cozy vibe and the well-stocked bar to your right. The lower floor is small enough to fit in only seven wooden tables, each with a dainty vase of flowers on top. For seating, you can opt for the chairs upholstered with fabric in various designs, but we highly recommend you head for one of the two large inviting couches that line the walls. The dining area upstairs has a more formal vibe, yet the warm colours and mixture of fabrics used on the couches inevitably make this a relaxed space, as well.
The menu (which is also available in English) consists of world fare with Mediterranean and Indian influences, featuring starters, pasta, pizza, entrées with chicken, meat and fish, snacks, desserts, local and imported wines, cocktails and- true to the café name- coffee varieties. We highly recommend the pastry with charcoal-grilled eggplant as an appetizer, served with a yoghurt and purslane sauce and cherry tomatoes. This shareable vegetarian dish has a crunchy exterior, and the subtle lemon flavour makes it light. For a hearty entrée, opt for the skewered chicken in teriyaki sauce, served atop a bed of Udon noodles, red peppers, bean sprouts and fresh onion. The Udon noodles are done to perfection, while the sweetness from the teriyaki and the tang of lemon combine to make a dish that is surprisingly light for one that includes poultry. The dish to beat at Café Zone is the Pasta Bosforo, which comes with shrimp, calamari and mussels in a curry and saffron sauce with rosemary sprinkled on top. The first thing that can be said about this filling dish is that, unlike many restaurants in Istanbul, the pasta has a truly al dente texture, while the curry flavour is not overwhelming. The well-cooked shrimp is clearly fresh. The taste of saffron is barely perceptible, yet is impressionable. As for dessert, try the soufflé with chestnuts and a raspberry sauce. The soufflé is the size of a Turkish coffee cup, served with small containers of vanilla ice cream and vanilla sauce. It is the perfect size for one, yet it packs so much chocolate flavour that two can enjoy this delectable dessert together.
With its extensive menu, appetizing cocktails and warm vibe, Café Zone is the perfect place to visit as a family or on a date; for after-work drinks or any given meal. Head here on a Wednesday or Saturday night to hear the DJ spin, and when nice weather graces us with its presence once again, make time to peoplewatch in their outdoor seating area.
From the Menu
Pastry with charcoal-grilled eggplant 10.50 TL
Pasta Bosforo 21 TL
Chicken haunch on a skewer with teriyaki 19 TL
Soufflé with chestnuts and vanilla sauce 12.50 TL
Vodka Nut (vodka, hazelnut syrup, sugar, sprite) 17 TL
Details