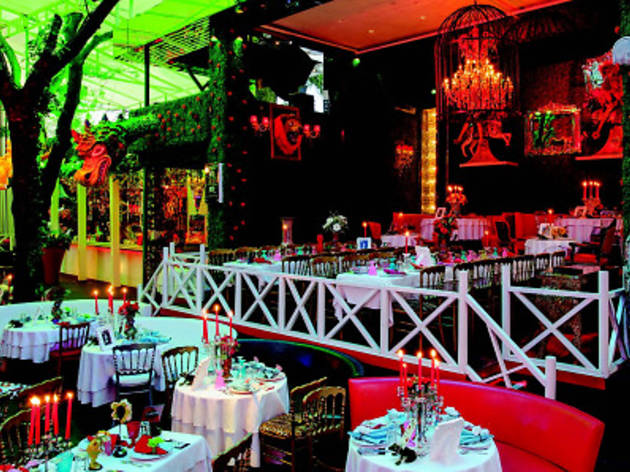 Time Out says
Cahide started off the season with a bang – think Alice in Wonderland with a Turkish pop twist. Just like Alice, you enter through a keyhole and are immediately greeted by the new cocktails of the season, served in clogs with names like 'Alice of Kashan' and 'The Hare Runs, the Basset Catches'. From there, it's a whirlwind of dragons, merry-go-rounds, giant rabbits, tables embellished with playing cards, armchairs with boxing gloves, swings, bugs and flowers in all the colours you could imagine. The heart-shaped door and balcony on the stage are right out of the novel, lit up by chandeliers in birdcages throughout the venue. Even the bar seems to have received the wonderland-treatment, with lollipops dangling from the ceiling to obscure your view of mannequins dressed in outfits and wigs made out of candy. (You'll even spot a resident Alice and Mad Hatter from time to time.) The heart table and Red Queen lounge – a Cahide classic known to host up to 18 bachelor/bachelorette parties in one night – remain one of the season's favourite corners.
Cahide's menu has also seen an overhaul. You begin your feast with ten kinds of mouth-watering cold meze, like potato salad with tahini, bulgursalad with walnuts and sour pomegranate syrup, string beans, cold kidney bean stew and more. Five warm starters – crispy sea bass, stuffed grape leaves, arancini, börekwith minced meat and Cahide's classic dish, the 'whore' mantı– quickly follow. For your main course, you can have your pick from three choices: beef medallion in a bed of roasted eggplant, oven-roasted chicken with green rice pilaf and sage, or sea bass with veggies and oven-baked potatoes. (On some days, you might be served green rice pilaf with almonds and tandoori lamb in a giant tray.) Your meal concludes with a dessert platter of seven different eats: barbat kaçka, bombedemu, sweet semolina cake with panna cotta, semolina helvaand others, served in portions according to the number of guests at the table. Cahide also offers fruit plates with decadent presentations, like a watermelon stuffed with seasonal fruits – one of which is a grapefruit baby with cherry eyes and a pacifier. The sorbet bar serves up flavours made with seasonal fruits and fresh marmalade, though the sorbet cocktails are slightly more popular (of particular note are the Pink martini, Ricky martini and Alice from Kashan).
When the clock strikes 21.30, the immensely creative shows – courtesy of Cahide manager Burak Kılıç and show crew director/choreographer Ahsen Gönülce – begin. Don't be surprised to hear the wait staff singing along to Red Queen's songs right before the show begins – this is a talented crew, after all. We'll try to avoid giving spoilers, but Cahide regulars are sure to spot several new dancers in the line-up. Each night at Cahide feels like a spectacle of colour, with costumes, music and performances that make your head spin: some theatrical, others more cabaret-like... Even Ahsen puts on a show as Madonna, with a final performance that defies words. Live music continues on Tuesday nights through the end of summer, but be sure to make reservations a couple of days in advance before falling down the rabbit hole.
Details