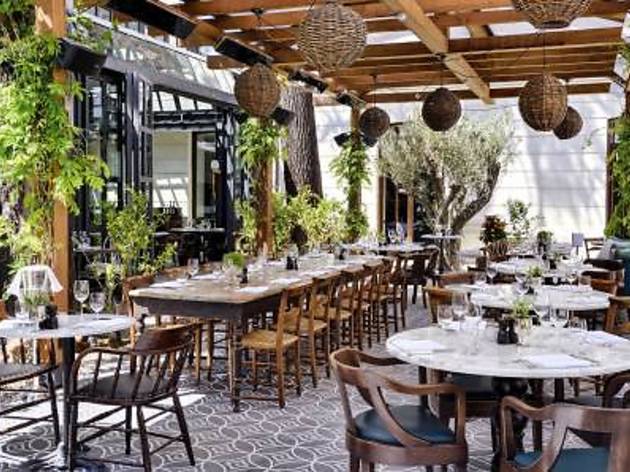 The Istanbul branch of the Soho House group might be a members-only affair, but thankfully its Italian restaurant is open to us all. Situated right beside the private club housed in the old American Consulate, Cecconi's is an Italian eatery that opened its fourth location in Istanbul after London, Miami and Hollywood. Cecconi's boasts a private backyard surrounded by the walls of the old consulate building. While it initially reminded us most of the Miami location, Cecconi's Istanbul is less tropical and more Mediterranean. Even though you'll find plenty of seating, a spacious open kitchen and a bar inside, we highly recommend trying to snag a table in the garden underneath the olive trees, dim lighting and wooden columns entwined with vines.
In the kitchen you'll find Chef Alessio Biangini, who transferred to Istanbul from Cecconi's in Hollywood. Here he serves a simple, one-page menu of Northern Italian fare that still manages to offer a satisfying variety. If you're unfamiliar with Italian cuisine, terms like garganelli or plin agnolotti might throw you for a loop, so don't be shy about consulting your waiter for clarification.
At Cecconi's the meal starts with traditional Venetian cicchetti, where you get to sample tried-and-true flavors like meat patties with basil and tomato sauce (20 TL) or more adventurous options like fried olives with cured meat and provolone cheese (15 TL). Be sure to sample a few appetizers as well, our recommendation being the gnocchi romana with gorgonzola (22 TL) and the burrata with pistachios, avocado and tomatoes (35 TL). The cream and mozzarella-filled burrata in particular is a must-try and easily the best you'll find in Istanbul.
For the main course, you can choose from pizza, pasta, salads and veggie-based flavors, or you can opt for meat, fish and poultry dishes from coal- and wood-fired ovens. The pizzas are crispy with a thick crust and thin base, and they're generous even when it comes to uncommon ingredients, as evinced by the pizza with truffles, zucchini blossoms and goat cheese (55 TL). True to what you'd expect from an authentic Italian restaurant, the pasta is handmade at Cecconi's. For those who'd like to try an unusual combination, we recommend the plin agnolotti (35 TL), a mantı-like dish made all the more delectable with sage-infused butter.
At Cecconi's, the prices vary depending on the ingredients used, so you can eat lobster spaghetti for 90 TL or a simple pizza with mozzarella, tomatoes and thyme for 30 TL. If you're in the mood for dessert, we suggest looking past the cheesecake with ricotta to sample any of the homemade gelato flavors (25 TL each).
If you want to try quality Italian fare in a laid-back atmosphere instead of the usual somber restaurants with white tablecloths on each table, we advise making reservations early on, as Cecconi's has been booked just about every evening since its opening. You can also stop by for Sunday brunch, where for 150 TL per person you'll get to sample from an extensive open-buffet spread of Italian cheese, pasta, roasted veal and even oysters.
Cecconi's Istanbul
Meşrutiyet Caddesi 56, Tepebaşı.
(0212) 377 71 80 / www.cecconisistanbul. com.
Mon-Sat 19.00-23.00;
Sun 19.00-23.30.
Sat lunch 12.00-16.00,
Sun brunch 12.00-17.00.
Venue name:
Cecconi's Istanbul
Contact:
Address:
Meşrutiyet Caddesi 56, Tepebaşı
İstanbul


Opening hours:
Mon-Sat 19.00-23.00; Sun 19.00-23.30; Sat lunch 12.00-16.00; Sun brunch 12.00-17.00