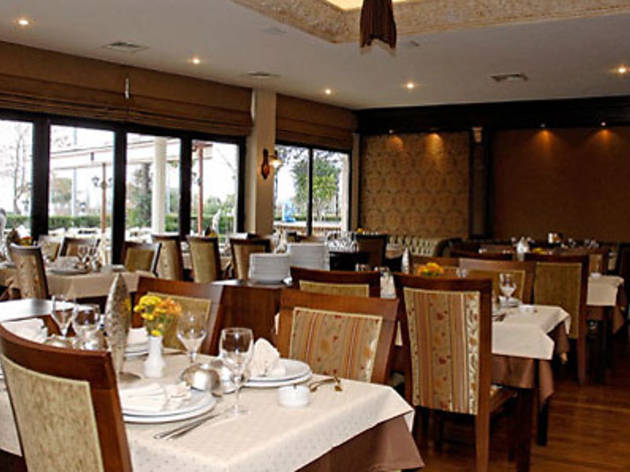 The restaurant only serves special Mardin dishes and was established 9 years before it opened its first branch in Istanbul due to increasing demand. The menu in Istanbul is exactly the same with the menu in Mardin. The chefs in the kitchen are all trained in Mardin: either they were borned and raised there or sent there to be trained. The 200 people capacity venue is decorated rather simple. There is an overview photograph of Mardin in one wall and nothing more.The only music you hear in the background is from Mardin area.
On the tables, there are copper cups used to serve the house- wines produced in Mardin. From the menu, we recommend cold 'mehir' soup, 'kişke' soup, and 'lebeniye'. 10 different types of meze are served in a copper tray and you can order either for two or four. Among these mezes there are 'tebbel' (aubergine salad with tahini), molded yogurt, 'maş' salad, 'hibeş' (mashed broad beans with tahini) and 'mıkli' (squash salad with walnuts). From the appetizers, 'ırok' (fried içli kofte), 'sembusek' (closed lahmacun) and 'kıbbe' are must-tries. The main course menu is separated in sections like'Meadow Cuisine in Mardin', 'Syrian Cuisine in Mardin' and 'Palace Cuisine in Mardin'. Highlights among them are pan roasted lamb with bread, stuffed tribe, 'dobo' (stuffed leg with garlic), 'alluciye' (sour plum stew) and 'küşleme' (a type of lamb meat). As a dessert you can have tomato dessert, date dessert, 'helhel', 'kahiye' with walnuts or 'harire' (molasses pudding).
There are even drinks here special to Mardin cuisine: ginger lemonade, sweet sumach juice and licorice syrup are some of them.
Venue name:
Cercis Murat Konağı
Contact:
Address:
Garden Park Barbaros Mahallesi Lale Sokak No: 1 Batı Ataşehir İSTANBUL
İstanbul


Opening hours:
Daily 12.00-00.00.