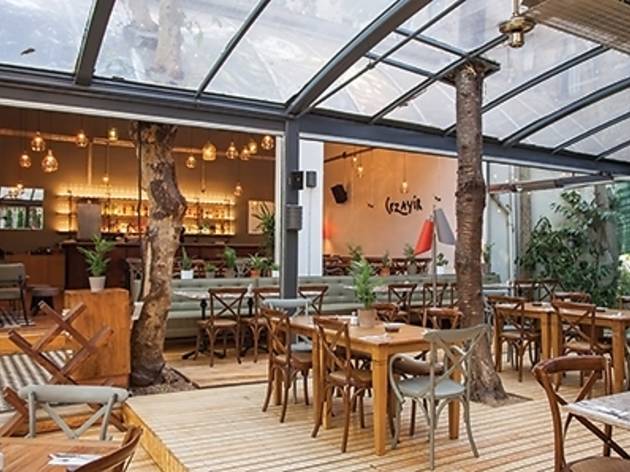 Time Out says
Longtime Istanbul residents must surely have noticed the gradual monotony in Beyoğlu, particularly along İstiklal Caddesi, where there are dozens of places to buy shoes or get coffee but very few establishments where you can enjoy a decent meal in a historic atmosphere… This is where Cezayir comes in.
First, a bit of history: Cezayir (Turkish for "Algeria") gets its name from the street beside it, but its past has to do with Italy. The story begins with the arrival of Giuseppe Garibaldi, who is considered one of the founders of modern Italy, in Istanbul. While working as a crewmember on a boat in the Black Sea in 1828, Garibaldi gets sick, and the captain leaves him at the closest port, which is Istanbul. Three years later he returns to his homeland, only to come back to Istanbul in 1862 on exile from Rome. During this time, he establishes the Italian Workers' Association, whose headquarters were in the building known today as Casa Garibaldi. From the end of the 19th century through the beginning of the 20th, Garibaldi and the Italian community bless the city with works that shape the architecture in Beyoğlu – one of them being the Cezayir building constructed in 1901 as a school for the Association members' kids.
The building, which formerly housed a restaurant, underwent renovations a couple of years ago and has since been used mostly as a venue for press conference and culture-arts events. Then, at the end of August, the Tamirane crew took over the building and completed an excellent renovation project in collaboration with Atelier187. At first glance, the restaurant looks almost identical to how it did in the past, but its new owners are determined to make this a more multifunctional venue for meetings, private events, film screenings and even concerts.
Overseen by Chef Fırat Yanardağ, who previously worked at La Scarpetta and Ristorante Italia di Massimo Bottura, Cezayir's kitchen offers two separate menus. The ground floor is a great place to grab a laptop and do some work as you enjoy a simple selection of sandwiches on Cezayir's homemade bread or pizzettas such as the smoked salmon or potato variety. By contrast, the garden floor is the place to go if you're after experimental flavors such as shrimp in filo dough served with date chutney or the Cezayir burger, which resembles sloppy joe with walnuts. We also recommend sampling the Cezayir muhallebi, which blends kadayıf (fried shredded wheat), mastic, chocolate crumble and pomegranate bits.
You'll also find nods to Spanish cuisine, like the surprisingly light wheat paella with mussels, scallops and jumbo shrimp or the thinly sliced churros.
While Cezayir's new menu is remarkable, we feel that the Tamirane crew truly deserves recognition for its hard work in bringing this historic building back to its former glory. It's just what Beyoğlu needed.
Details