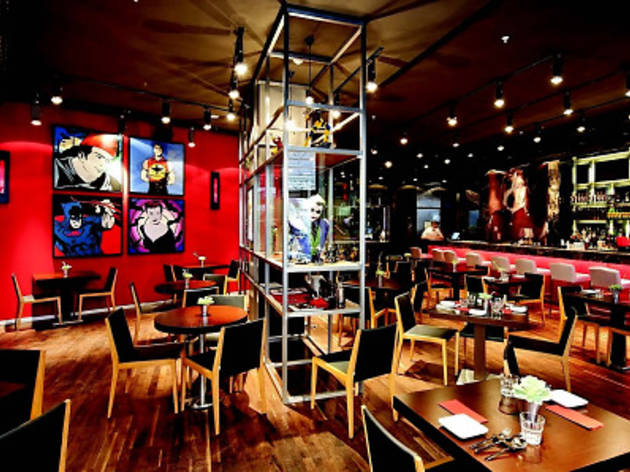 A lot of things could be said about Emre Ergani, but 'unimaginative' isn't one of them. The illustrious manager with the golden touch has blessed not just Istanbul but also Alaçatı and Çeşme with entertainment and dining locales that seem incapable of doing wrong. Yet it's his five-venue undertaking in Rixos Pera Istanbul that truly impresses.
The first of the locales we visited, Chapelle derives its name from its neighbour, St Helena's Chapel. Ordered to be built in 1582 by Emperor Constantine the Great in honour of his mother, St Helena, the chapel is still used to this day by the personnel of the British Consulate. One of the façades of the building remains within the courtyard of Chapelle, which lends the venue a mystical aesthetic. The spiritual feel gets even more heightened when the interior of the chapel gets lit up at night.
For the time being, the interior of Chapelle feels as though it's waiting for winter to arrive. The concept is defined as 'café-bar-restaurant', yet it has more of a Parisian feel, particularly with the brasserie-like furnishings. The décor mixes modern and classic, though the ambience in the courtyard is far more relaxed and easygoing than on the inside. Ultimately, the best way to describe Chapelle is as a meeting point, whether you drop by before a concert or after an exhibition outing to grab a bite as you listen to some good music.
It's likely that wine will be your drink of choice when you're seated in this courtyard, and you're certainly not alone. That's why they've managed to build a large cellar that features affordable options from different wine regions around the world as well as bottle after bottle of Gaja.
The menu doesn't disappoint, and there is no room for surprises when it comes to what you eat, since you're in the capable hands of Ergani. He's carried over to Chapelle the very dishes that made his previous establishments successful. One of the most popular items on the menu is the charcuterie plate of roast beef, smoked veal, bresaola and smoked beef tongue, best tried with a glass of wine in the early evening for the full Chapelle experience. For the salad fans among you, our recommendation is the smoked salmon salad, best paired with a glass of vintage Chardonnay. And if you want something more filling, you can't go wrong with the vine leaves stuffed with chicken, topped with a creamy cheese sauce.
Our second visit to Rixos took us to Jack Russell, whose character is fully reflected in its name – a nod to that most playful, smart and restless breed of dogs. After passing through the narrow but airy courtyard, the first thing you'll see is a big poster of Jack, decked out in epaulettes and medals. The red-lit walls are lined with quite marketable paintings, like the Dalí portrait with a huge barcode on it (courtesy of the art collective Artapot), as well as glass shelves decorated with fantastical figures of comic book characters – all of which are available for purchase.
Ergani isn't the only one who's put in some effort here, with Gül Etker accompanying him every step of the way in bringing Jack Russell to life. Nowhere is this more evident than in the kitchen, where her devotion of time and energy has paid off in the form of a mischievous menu with riddle-like item names. The creative touch behind the recipes springs from her imagination: if Etker hadn't wondered why sour cherry-stuffed grape leaves couldn't be made with raspberries or why a toast with kaşarcheese and beef tongue couldn't be transformed into a flaky börek, we'd be looking at a much more run-of-the-mill menu.
Most of the food offered falls under the snack category, which makes them ideal for sharing. Though Jack Russell had newly opened on our visit, there were already a few favourites among regulars. Two of these are the crispy shrimp with kadayıf(oven-baked shredded wheat soaked in syrup) as well as the cinnamon-sprinkled beef neck and ribs.
Venue name:
Chapelle & Jack Russell
Contact:
Address:
Rixos Pera Istanbul, Meşrutiyet Caddesi 44 Tepebaşı
İstanbul


Opening hours:
Chapelle: Daily 11.00-01.00; Jack Russell: daily 12.00-01.30 (kitchen closes at 23.30)