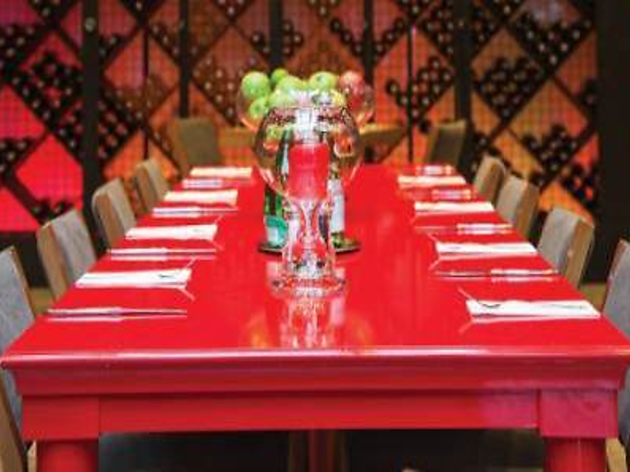 Choice a locale that uses its dynamism to turn every night into a colourful affair. Even on weekdays, it's possible that you'll find yourself dancing to '80s music or being dragged in to a theme party.
From the moment you step inside, Choice stands out with its stylish and elegant décor. Timber tables sit atop a beige floor, alongside contrasting grey velvet lounges and chairs. Your eye immediately gets drawn to the long, red table and the wine rack sitting at the end of the marble bar. Following a 14-month period of construction and renovation, Choice now boasts a 6m-high ceiling that's made of soundproof, unbreakable acoustic glass.
Choice offers two breakfast options: the Istanbul Breakfast and Choice Breakfast. In the first you get imported cheese, olives and jam varieties, while the more plentiful Istanbul Breakfast consists of cheese, olives, egg and simit. If you'd like to enrich your breakfast with an omelette, you can try the Spanish omelette with potato, fresh onion and red pepper.
For lunch and dinner you can choose from a selection of cold starters, pastas, pizzas and salads or, if you prefer smaller portions, sample from their tapas varieties. Among the salads they particularly recommend the duck liver salad. As for the main courses, the must-try flavours are the beefsteak with three-mushroom sauce, Swiss chard patties, duck stew and baked sea bass with spinach puree. The best end to a meal here is hands-down the Italian chestnut soufflé or the hot tahini cake.
After dinner, Choice transforms into a nightclub, with DJs providing the beats as you sip on the adventurous cocktails like No. 5 and Vodka Candy.
Venue name:
Choice
Contact:
Address:
Küçük Bebek Caddesi 10
İstanbul


Opening hours:
Daily 09.00-04.00.