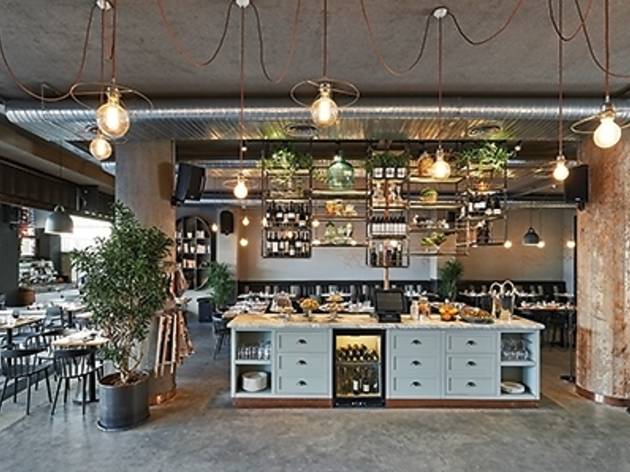 Karaköy's newest eatery comes from Yücel and Gülin Özalp, the couple behind Istanbul's fine-dining classic Topaz. This "neo-bistro," as the couple calls it, is one of the best examples of how the idea of urban transformation can be adapted to a neighborhood in the form of an eating and drinking locale – right down to its décor, menu, music, the bicycle park out front and the freedom to visit with you cat or dog. In short, Colonie is a high-energy eatery that is in tune with its neighborhood.
The décor, courtesy of Paris-based design mastermind Koray Özgen, is an updated interpretation of the neighborhood's cosmopolitan character. From the lighting to the installation on its walls and a painting by Ekrem Yalçındağ, the eatery displays the old, craft-focused values of the neighborhood with the authenticity of a port town.
Colonie is open for all hours of the day except breakfast (for now). It's the type of place where you can take a break to grab a small bite as you read the newspaper or a magazine during the day, or have dinner and enjoy Murat Tokuz's music at night.
Located in the heart of the eatery, Colonie's most valuable treasure is undoubtedly its open kitchen, which boasts a wood-fired pizza oven. What we particularly love is that the food – essentially fine-dining flavors in terms of their presentation and ingredients – is served at affordable prices. The charcuterie section is another hit at Colonie, with a repertoire that's enough to entice visitors with its cheeses and cold cuts alone.
At night, the eatery serves up unique cocktails like Colonie's Purple, Hot Passion and 5 Stars Side Car as visitors enjoy good music. The couches right across from the bar are our favorite, though we also recommend meeting up in Colonie's naturally breezy veranda to enjoy the city during the relatively quiet summer months. Merve Arkunlar
The Taste Test
From the cold appetizers on Colonie's "neo-bistro" menu, the glazed salmon is the perfect summer dish, and at 22 TL, it's sure to be a favorite of sushi lovers. The salads (15-30 TL) are also notable for their blend of garden-fresh greens and other ingredients with invigorating sauces. The menu also includes delicious pizzas (available in mini size, for two at 18 TL and for three at 27 TL), Asian-spiced steak and asparagus (58 TL), risotto (26 TL) as well as daily prepared desserts such as tiramisu, cheesecake and strawberry mille-feuille (15 TL).
Venue name:
Colonie
Contact:
Address:
Kemankeş Caddesi 87/A, Karaköy
İstanbul


Opening hours:
Daily 11.00-02.00