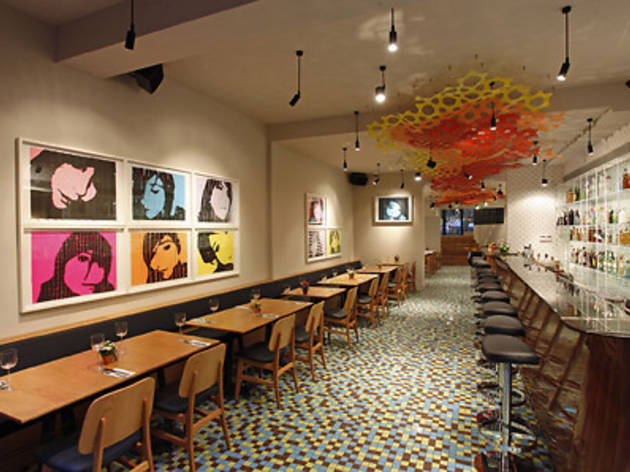 Time Out says
Dada is a place that's both old and new. Located in Lush Hotel, on Sıraselviler Caddesi, the venue kept its name even after being renovated from head to toe. Now you'll find postmodern design here, as well as Chef Bilal Eren, who used to be Limonata's chef. Upon entering Dada, you'll see a large display window on your left that includes a variety of decorative objects, ranging from Transformers toys to bottles of olive oil. The beauty of it all is that, although all the objects seem to be irrelevant to one another, the overall picture is incredibly charming.
The menu incorporates classic flavours with many options to choose from. There's something here to fit everyone's palate, from main courses to pastas and breakfast dishes to desserts. The orichetti, which looks like the Turkish mantı is a great alternative for vegetarians, as it doesn't include minced meat. What we particularly loved about the menu is that the preparation time is given for each dish so you know what to expect when ordering – especially useful if you're in a rush. Another appealing aspect of Dada is the nicely-presented teas and, specifically, the refreshing, unsweetened ice teas that are first boiled, then blended with plenty of ice.
Sharing a garden with Dada, S14 is a new club with a different entrance but the same 'exclusive' vibe as Dada. It's small and equipped with an advanced sound system; it is also worried about your comfort, even while you're on your feet. How? Well, believe it or not, they've installed soft and colourful butt placement units. S14 was designed as a 'members club'. They plan to welcome their members on different days that bear different themes, when the venue will not be open to the public. Incidentally, S14 will be open to the public on Wednesday, Friday and Saturday. Just like tasting days in restaurants, S14 plans to organise music tasting nights with constantly-changing DJs. We definitely recommend S14 for good music and great fun dancing to the beats.
Details