Dardenia Fish and Sushi Göktürk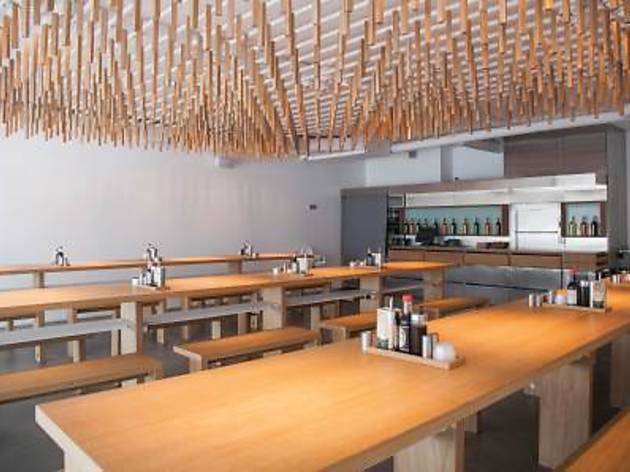 On the main avenue in Göktürk, this restaurant blending Japanese cuisine with Turkish street culture shines at night as if it's come to earth from space. Dardenia Fish & Sushi is the latest endeavor by the 30-year-old Dardanel company whose mission is to put fish on the table in each home. This showroom-like restaurant opened in early 2014; although it looks like a fast-food venue from afar, you'll actually find a young, futuristic and transparent atmosphere when you enter. The service is fast but still allows patrons some time to hang out.
Following the opening of the first Dardenia in Erenköy in 2011, the number of eateries around Istanbul has now grown to five, yet the Göktürk branch is the only one to offer sushi. With Dardanel owner Niyazi Önen a resident of the neighborhood, it's natural that this restaurant serves as a showcase of sorts for the brand. The long, wooden banks lend it a canteen-like air, while the glass floor allows you to watch Philippine sushi chef Cohn frantically prepare the orders in the kitchen below. The venue's architect Ahmet Alataş created a transparent and sterile atmosphere in Dardenia, where the food is served in recycled paper and carton containers.
In terms of the sushi, the rock and roll variety is a wild and tasty option served with crabmeat covering the roll. The taste of fish prevails in the more demure New York roll, while the can't-miss dynamite shrimp, fried in sesame oil, gets its fire from its spicy sauce. Serra Gürçay
Venue name:
Dardenia Fish and Sushi Göktürk
Contact:
Address:
Istanbul Caddesi, Country Life Sitesi, Dükkan 7-8
İstanbul


Opening hours:
Weekdays 11.00-22.00; Weekends 11.00-23.00