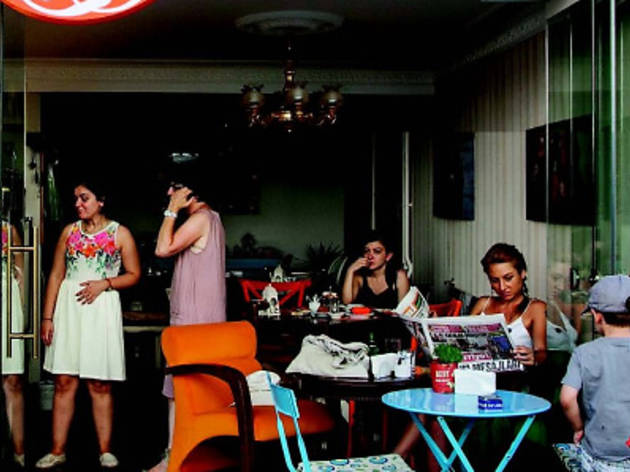 Time Out says
This teeny patisserie right on the corner of Cihangir Caddesi is the first venture by owner Burcu Soydan into the eating and drinking sector. And since profit margins are a thing of secondary importance to her, D'Oret is as genuine as a baked goods shop comes.
Despite having opened its doors only recently, D'Oret has already made itself some regulars, particularly among the more international residents of Cihangir who stop in to watch passersby from one of the three-four tables or do some daily shopping.
There's a counter to the left of the entrance, with jars full of cookies lining its shelves, while the display window is full of pound cakes and other sweets. So if you happen to be seated facing this area, it's almost inevitable that you'll ask for a second plate before you're even done with your first. Thankfully, though, the prices are quite affordable.
An introduction for beginners: everything at D'Oret is handmade, and most of the baked goods use recipes that belong to Doret Hanım, an Izmir resident. Traces of Sephardic cuisine are easily felt. One of the most popular offerings here is the shortbread cookie with tahini (2.80 TL for 100 grams), whose fall-apart-in-your-mouth texture makes it a permanent fixture in those inviting cookie jars. The carrot cake is ideal for diners in search of something light, and we certainly recommend you try it with the ice-cold homemade lemonade. If you're eyeing the profiteroles on the counter, however, here's a tempting secret: the sauce has Nutella in it.
At 75 kuruş apiece, the savoury börekitaş with roasted eggplant (made with an authentic Sephardic recipe) could easily have you fooled into eating an entire tray. Another must-try flavour is the stuffed grape leaves in olive oil, sold in 100-gram packages that make it an ideal gift option. Since we visited D'Oret on an afternoon, we were unable to try the poğaça (savoury pastries), but the expression on the faces of the three people who dropped in to inquire about the poğaça was enough to let us know that we missed something big. We recommend you visit early one morning to get your fill – and while you're there, try their homemade jams.
Details