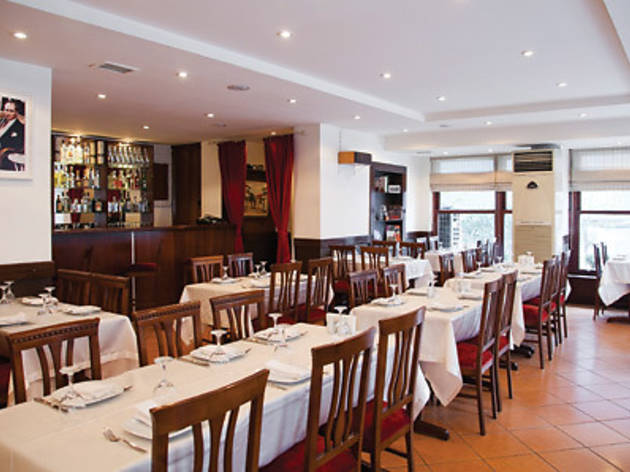 'A meyhane in Şişli' – this is a phrase most likely followed by a question mark, not a period, for people who only veer towards Asmalımescit when they have their minds set on drinking rakı. The creators of the venue tell us why they chose Şişli as the location for Duayen while they witness a crowded moment on Halaskargazi Caddesi in the middle of the day from the sash window. The meze lined up on the rakı table are an integral part of the story: most of these authentic Armenian dishes on Duayen's menu are made at home by Armenian women still living in the neighbourhood – which is why Duayen is in Şişli, where it should be. The two figures behind Duayen, Aykut Oğuz and Erkut Sezer, describe the cuisine as 19th-century Ottoman.
Their most ambitious meze are tarama (fish roe) and topik (layered chickpea pâté), the gift of Armenian cuisine to rakı culture. The tarama is made with a salmon caviar, which gives it a light smell as well as flavour. And that's just what Oğuz and Sezer are after: unadorned, refined tastes devoid of excess... The portions are small, which lets us try a multitude of dishes at the same time. It takes brass ones to be this self-assured when it comes to topik, but thankfully, the topik at Duayen is made by master hands, well experienced in crafting this dish for decades. The moment you take your first bite, there's a chance you could question whether the ones you had before were the real thing at all. Other must-try meze include patlıcan söğürme (fire-roasted, mashed eggplant), served warm with a hint of aromatic roasted flavour to it; stuffed grape leaves with plenty of currants, cinnamon and just the right amount of sugar; and stuffed cabbage. From the list of warm starters, we try the muska börek (triangular puff pastry) with eggplant and cheese, as well as the juicy, tender, thinly-sliced liver with red pepper flakes.
Yet another great find at Duayen is the Swiss chard stuffed with meat. No scrimping on ingredients here either – it's got plenty of ground beef for full flavour. If you're in the mood to set up a rakı table on an afternoon or in the early evening, the meze at Duayen give you plenty of reasons to steer towards Şişli instead of Asmalımescit. The Italian and French classics playing in the background give way to Greek melodies as the hours pass, and that's when the fun really begins. Duayen also offers two set menus for groups, both with unlimited domestic alcohol, for 80 and 100 TL.
FROM THE MENU
Muska börek with eggplant 3 TL
Tarama 9 TL Topik 9 TL
Thinly-sliced liver 10 TL
Swiss chard stuffed with meat 10 TL
Yeni Rakı (glass) 12 TL
Yeni Rakı (70 cl) 90 TL
Venue name:
Duayen
Contact:
Address:
Halaskargazi Caddesi,Tavukçu Fethi Sokak 28/B
İstanbul


Opening hours:
Monday-Saturday 12.00-15.00; 17.30-01.00.