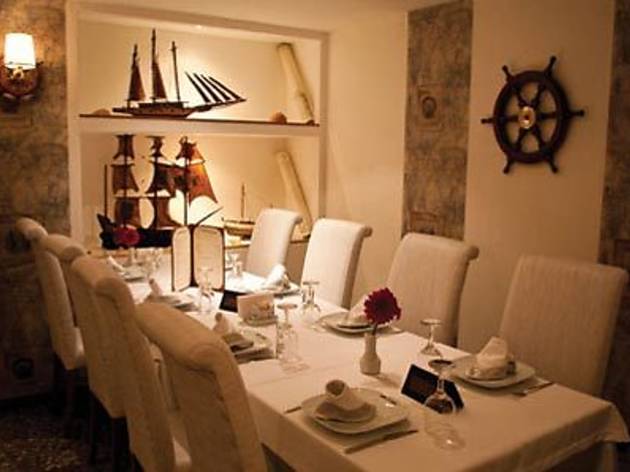 The chefs are from Cunda Island and Bodrum on the Aegean, and the managers are from Diyarbakır in the Southeast. The eclectic menu includes variety of seafood, characteristic of Aegean cuisine, served alongside a selection of hot and cold vegetablebased meze dishes, as well as a variety of fish alternatives and desserts. At Efe Balık you will have a lot of meze dishes to choose from. Nothing beats unique traditional Aegean-style dishes like: Stuffed zucchini flower, dried eggplant rolls, clay-cooked stuffed fish, eggplant casserole, marinated vegetables with yogurt sauce, and chickpea & nut buns.
Rarely found in Istanbul's diverse cuisine, Efe Balık manages to incorporate ingredients like mustard seed, mallow, turnip and chicory roots into their dishes. Sample from a wide range of mouthwatering entrées, including: fried Laos fish nuggets, baked shrimp casserole, oven-baked octopus with a wine sauce and sea bass & leek rolls. The Aegean chefs mix n' match special sauces with innovative cooking techniques, and the result is an irresistible array of fried, marinated and seasoned fish and a signature oven-baked turbot tandoori. The meal, however, is not over yet. Fluffy soufflés, soft chocolate pastries doused in syrup, and pumpkin slices simmered in tahini sauce are sure to bring this delightful dining experience to a sweet and satisfying end. Efe Balık is definitely a destination location with its décor, views of the Bosphorus, and original cuisine. A constant reminder of the sea, it has mussel shells adorning the floors and marine accessories decked along the interior, making you wonder when Efe Balık is set to sail the high seas.
From the Menu
Stuffed zucchini flower – 8 TL
Each meze dish – 4 TL
Braied Fener fish – 25 TL
Volcanic (soufflé) – 10 TL
Venue name:
Efe Balık
Contact:
Address:
Yeşilköy Mahallesi Rıhtım Caddesi 20/B
İstanbul


Opening hours:
Daily 12.00-01.00.