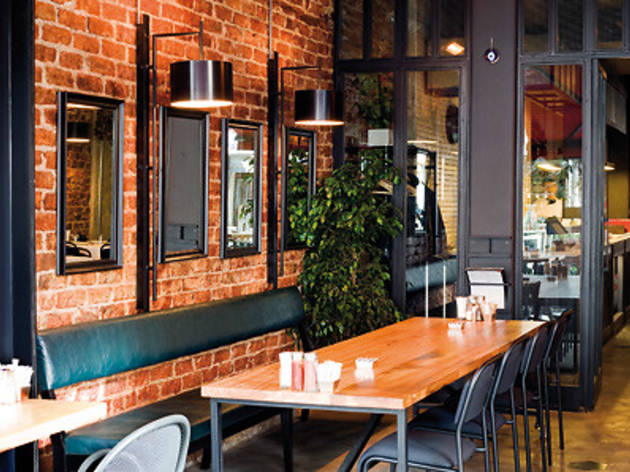 What keeps Faros different from all the other kebap places is no overpowering smell of meat as you enter, or the cooks with dirty aprons, the unhappy and exhausted waiters, the managers who think cuisine is all about kebap... The moment you walk in the door at Faros, you're met with cool jazz melodies and smiling faces. The overall decor – courtesy of Page Architecture – is chic, simple and relaxing at Faros, which can seat up to 70 people.
In keeping with the theme of 'less is more', the menu here offers select flavours in their original form. Take the Adana kebap, for example; it's cooked not on the customary flat şiş (skewers) but on round ones, with a portion weighing approximately 130 gr. And you won't find any ground meat on the kebap, only meat sliced with mincing knives to help preserve the flavour. The wood fire oven also pumps out authentic flavours like puffy bread, lavaş (flatbread) and tırnaklı (literally, 'combed') bread, which comes served with Büryan, a kebap originating from the Siirt province.
For a lighter taste, try the salads and meze dishes, particularly the hummus, ezme (paste) and purslane. I inquire about the meze chef; he's from Adana. The bread master? Urfa. And the kebapmaker? Mardin. All of them do a superb job and look happy to be working here – which unarguably makes for satisfied diners.
From the menu
Faros şaşlık kebap 19 TL
Lahmacun 4 TL
Gavurdağı salad 6 TL
Künefe 9 TL
Classic Turkish breakfast 11 TL
Venue name:
Faros Kebap Talimhane
Contact:
Address:
Kocatepe Mahallesi Şehit Muhtar Caddesi 28/A
İstanbul


Opening hours:
Daily 08.30-00.00.