Food trends in 2016
Who said the eating and drinking scene isn't subject to natural selection? After all, we're a species that rapidly consumes trends and moves onto the next new thing... Here's what to expect from the upcoming year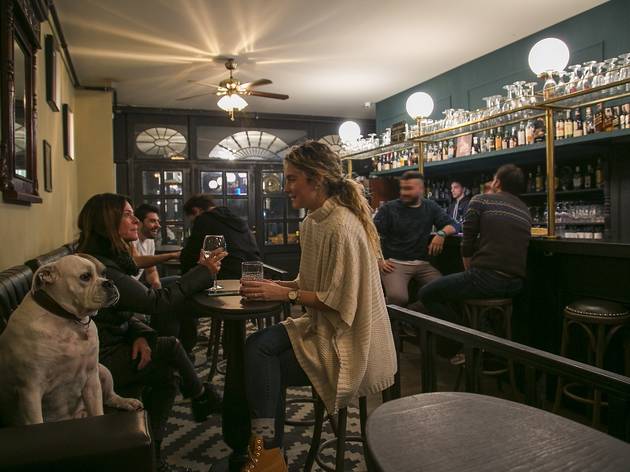 The rise of the pub
Although it's a far cry from the British pub scene, we're happy to report that Istanbul is home to an increasing number of spaces that feel more like Nottingham than Nevizade. One of the best known among these new pubs is Kozmonot in Topağacı. In fact, you could even make the case that Kozmonot became the model for other venues that incorporate gastro-pub flavors into their menu. Another Topağacı newcomer is Dear Mom Pub & Beergarden, which serves a menu of mostly hamburgers to go with 16 types of draft and 21 types of bottled beer. Dear Mom doubles as a pet-friendly eatery where you can recline on leather sofas or grab a book from its library to read in front of the fireplace. The pub also hosts Madchester nights where you'll get to hear music by bands like The Stone Roses and Happy Mondays. Over in Beyoğlu, you'll find the newly opened The Barley. A joint project by Tektekçi's founding partner Berti Palambo and musician Birol Namoğlu, The Barley offers more than 100 types of beer and whiskey, served with nibbles that best accompany each drink (good news for those who are tired of the same old assorted nuts). Last but certainly not least we have celebrated restaurateur İzzet Çapa's latest project Beer Hall. We especially love the casual vibe: unlike the other eateries in Akaretler, this is a place where you can just throw on an old t-shirt and jeans and hang out with your friends. And sometimes isn't that all we want?
Coffee returns to its roots

Turgay Yıldızlı
We're not claiming that the third wave coffee trend is anywhere near finished, nor that we'll stop seeing coffees ordered with technical terms like Chemex. Yet our spidey senses tell us that the next big wave of change in coffee will occur in Turkish coffee. If we know where the beans are from in every cup of espresso we sip, why shouldn't we show the same concern for Turkish coffee? Get ready to see more Turkish coffees prepared with high- quality beans. You can already start to see signs of this trend on Kronotrop's website (kronotrop.com.tr) and stores, where the cezve (coffee pot) designed by Turgay Yıldızlı – a world champion in Turkish coffee – is available for purchase.
Artisan chocolates
There's no denying that we're a country obsessed with desserts, but when it comes to chocolate, we only do serious shopping on holidays. Yet when the chocolate is high quality, you don't need the whole box: just a single bite is enough to release those happy hormones. We believe we're on the eve of an era where you'll buy chocolate as a gift for yourself! For instance, Beşiktaş chocolatier Mendel's could become your new favorite spot when you want to treat yourself. In the world of artisan chocolate, Naz Öğücü is a young talent we recommend watching out for. A graduate of Le Cordon Bleu Paris who trained with one of the world's top chocolatiers, Pierre Hermé, Öğücü recently opened a chocolatier named Nazenin Istanbul in Kadıköy where you're guaranteed to find a new appreciation for artisan chocolates.
The tantalizing smell of freshly baked bread
240 Derece
You've been quite unfair to bread all this time. When you went on a diet, it was the first thing you cut out, and you always badmouthed this dinner-table staple. It was only a matter of time before bread took back the respect it deserves – and that day is here. We're putting aside the bakery breads made with instant yeast and white flour and focusing all our attention on healthy artisan breads.
Moda residents now have a place to get filling, artisan sourdough breads thanks to Naan Bakeshop. The woman behind the shop, Sandy Abut, previously only supplied bread to restaurants from her bakery in Reşitpaşa. Now, from her stone oven in Moda, Abut produces multigrain, walnut-raisin and other breads for the neighborhood. 240 Derece is another business that comes to the rescue of those who can't be bothered to go out and get bread. Established by a duo who received training on bread making in Spain and France, 240 Derece offers sourdough breads via its website, 240derece.com. On the European side, there's Bröd in Nişantaşı and Mitte Brot in Maslak Sanayi Sitesi. Founded by chef Zeynep Moroğlu (who's also partner at restaurants Backyard and Unter), Mitte Brot not only supplies artisan bread to restaurants but also delivers them right to your door (you can contact them at info@ mittebrot.com). Şemsa Denizsel's Kantin and Nişantaşı bakery Grandma are two other destinations where you can purchase sourdough bread.
Erhan Aktan, or Varşova Fırını, is another artisan bread maker whose breads you might have tasted at eateries like Kahve6 and Afili Meyhane. Aktan says he aims to make sourdough bread a household staple (you can place an order online by contacting him at varsovafirini@gmail.com). Another enemy of industrially produced breads, Gökhan Özgen makes artisan breads at Gogo's Bakery in Bodrum. You can browse the menu at gogosbakery.com and place your order (to be delivered to Istanbul) by calling (0532) 441 59 71. With all of these options, we don't want to hear any more talk of cutting out bread.
The deal with burgers
The city was overtaken by a gourmet burger trend a few years back, and we can still feel the effects in the abundance of high-quality burgers to be found around town. There are three trends that will likely make their presence felt over the next year: boutique breads, vegetarian patties and uncommon garnishes. Mm&g's Burger's bread made with sourdough starter, Bi Nevi's vegetarian burger patties and Ataşehir restaurant Burger Cuisine Istanbul's burgers with grilled pineapple are only a few of the many great reasons to start chowing down...
Chef's choice
The concept of "single-dish restaurants" is quite popular in cities like London and New York, where chefs shun the multi-page menu, thus allowing them to focus on one dish and raise the bar for whatever they're serving. We've grown accustomed to seeing succinct menus in Istanbul as well, but the recent emergence of restaurants focusing on specific foods signals the beginning of a new trend. The pioneers of this movement in Istanbul are Civan Er's mantı (Turkish ravioli) restaurant Tazele, young chefs Naz Tiryaki and Emre Çeri's burger joint Mini Eatery and the single-course eatery La Boucherie. All in all, it appears that 2016 will be the year where we seek out chefs' signature dishes.
Shipped straight to your fridge
Home delivery is one of the areas in which Turks excel: after all, how many services are there hereabouts that offer as much variety as Yemek Sepeti? Many of us opt to place an order on the phone instead of walking a few steps to the nearest bakkal, and it's even become a part of our culture to lower a basket out of the window for a loaf of bread. We've now entered the age where it's possible to bypass the markets and bazaars altogether and do all of our shopping online. There's a new generation of Istanbulites who shop online via websites like Aradolu. There are also mobile applications like Getir and KapGel, which come in handy when you need to order ingredients you find you're missing mid-cooking.
We've had our fill of modern meyhane
Credit where credit's due: the modern meyhane culture gave us restaurants like Duble Meze, which experiments with traditional meyhane fare in a fine-dining setting. We admit to being impressed by dishes like kokoreç bruschetta and paçanga served on vine leaves. Yet the rules of life also apply here: the more we see, the more we're longing for the simplicity of the past. Nowadays, we tend to favor classic meyhanes, and we're more interested in which one serves the best traditional fava beans and haydari. On that front, we have some news: Bebek's boutique meze haven Mezedaki recently moved to Uniq Istanbul, where it serves an extensive menu that pays homage to Istanbul's traditional meze culture. Meyhane Yare in Asmalımescit is another eatery on our radar with its classic meyhane ambience as well as star mezes like fava beans with beets and grilled octopus.
Raw foodies and vegans, unite!
Terms like raw foodism and veganism no longer confuse us; we're more concerned nowadays with how we can change our eating and drinking habits, stay away from animal products and find places that respect these nutritional models. One of the most popular Istanbul restaurants that seek to disprove the idea of vegan and raw foods being "flavorless," Bi Nevi Deli recently opened its second branch in Etiler after finding success with its original location in Karaköy. If you happen to lead a busy work life but still don't want to forgo your raw food diet, Atelier Raw is ready to deliver raw meals right to your door. Galata restaurant Şinas also serves vegan and vegetarian alternatives to traditional Turkish dishes. If you're in the Kadıköy area, we have two recommendations: the first is the all-vegan Yeldeğirmeni restaurant Tight Aggressive, which also operates as an art gallery and music studio, and the second is Muhtelif Mekan, known for its vegan içli köfte.