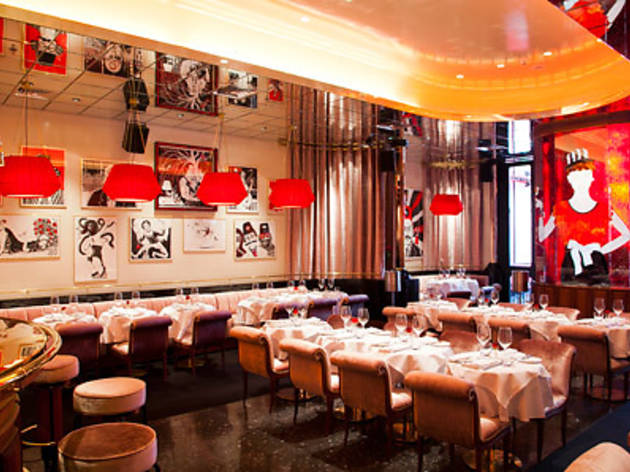 Time Out says
On a first glance, GiGi reminds us of Édouard Manet's painting 'A Bar at the Folies-Bergère' (1882). The bar's lined with champagnes, liqueurs, fruits meant for cocktails, chilled bottles of mineral water in ice buckets; there are velvet couches and curtains and, in keeping with the French custom, the tables are as cramped as can be. Even the staff members are dressed up to the nines in the latest season's Japanese-inspired Beymen duds; they're polite, attentive and, above all else, quiet. Managed by İstanbul Doors Group, GiGi's decor bears bright colours, bird cages, roses, mirrors and pink lighting, all offset by the signature sleek style of designer Sinan Erül. Large-scale illustrations on the exterior walls, as well as other works on the interior, were done by foreign artists under orders of Dükkan Creative. The exterior works, for instance, belong to a Japanese illustrator named Miminne who specializes in fashion. The ink-on-paper productions on the inside belong to three London-based artists: Neal Fox, Chris Bianchi and Stephanie von Reiswitz.
In addition to pure-bred French cuisine, you'll find gourmet samples of world fare on the menu. From what we can tell, it's a perfect blend. The prices aren't extravagantly steep compared to other eateries of the same calibre, especially given GiGi's İstinyePark location. Still, it's a little pricey compared to an average brasserie.
French breakfast options include croissants served with butter and jam, Croque Madame and French toast. You can also take your pick from starters like fried ricotta, buffalo mozzarella, organic miso chicken and Pissaladiere, which is knownas French pizza. The salad, pasta and snack options are also plentiful, while main courses like duck, solefish, chicken patties with apricots and burgers appeal to every palate. The most ambitious Parisian item on the menu is the Chateaubriand. Faithful to the classic recipe, the meat in this dish is so soft, it's undeniably worth the cost. We also recommend you don't skip dessert, given the alternatives like pineapple carpaccio, Mont Blanc and pumpkin cheesecake.
You'll find French, Turkish, Italian, American, Chilean and Australian wines on the menu, though the bartender's signature cocktailsare also worth a try. We particularly recommend the Rosette, made with Absolut, black grapes, rosé wine, cranberry juice and rose jam.GiGi looks to be a strong contender for after-work parties that last-long into the evening, with the music provided during regular DJ performances. The next time you're in İstinyePark, stop by for dinner, a coffee break or an after-work drink or to check out the latest fashion trends on live models instead of in window displays. Just watch out for the paparazzi.
From the menu
Croque Madame 25TL
Pissalediere 23TL
Chateaubriand (for two) 126TL
Pumpkin Cheesecake 16TL
Rosette 32TL
Espresso 10 TL
Details