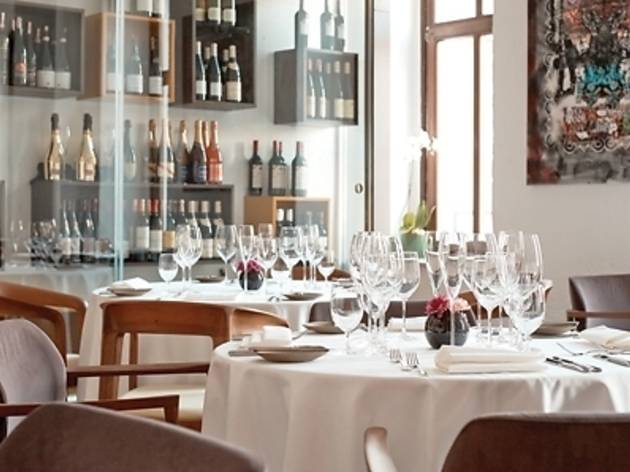 Time Out says
This new eatery nestled in Akaretler gets its name from young grape seeds. If you're an active follower of Istanbul's eating and drinking scene, you're almost certain to have enjoyed a meal cooked by Gile's two chefs, Üryan Doğmuş and Cihan Kıpçak. Before they teamed up at La Mouette, which spent two summers on the terrace of TomTom Suites (we still can't get their watermelon sorbet out of our minds), Culinary Institute of America-graduate Doğmuş spent time in the kitchens of Florida Ritz-Carlton, Hawaii Kapalua, Argos in Cappadocia and Istanbul's own Mikla. For his part, Kıpçak started his career in Switzerland's L'Hotel de Ville et du Maure, later working at Argos in Cappadocia and Mimolett. The duo teamed up again, post-La Mouette, to rekindle their love of culinary innovation.
The wine cellar at Gile is the only place in Istanbul where you'll find Turasan wines from Cappadocia's Argos vines, made with kalecik karası and syrah grapes, from 2010 and 2011. All the wines were handpicked to match the food, though if you're in need of some fine-tuning, you can always consult the sommelier on staff.
The tasting menu is a brand-new experience with familiar flavours, such as watermelon salad with coffee and walnut puree, duck pastrami served with rakı-scented melon, Circassian chicken (chicken with walnuts) pâté alongside pickled apples and black mulberry molasses, küşleme börek (puff pastry with lamb fillet) accompanied by black eggplant puree and the lamb's shoulder slow-roasted for 41 hours… Each is better than the next, though dessert lovers would be remiss to not also leave room for the ayran (diluted-yogurt drink) panna cotta or foam of sweet Turkish coffee.
Gile also offers a lunch menu designed to be served quickly, with calorie-conscious salads as well as the carnivorous Karaköy poğaça (savoury pastry) burger. Even if you're in a hurry, dishes like the spare rib pappardelle and Moroccan-style chicken make for a satisfying lunch.
The venue doubles as an art gallery, with paintings for sale that are set to change regularly. That same artful touch is also palpable in the delicate details – the dinnerware designed exclusively by ceramic artist Mehmet Kutlu, the mini asparagus trees on the tables, Ronnefeldt-brand teas, bread with Cappadocia molasses. Still, it's with the smiling service crew, the young chefs who aren't too shy to be seen and the ambitious menu that doesn't evoke fear of experimentation that Gile opens a new door in the fine-dining culture of Akaretler, and of Istanbul as a whole. If you want to discover what's new without deviating too far from tradition, Gile just might be your new favourite too.

Details