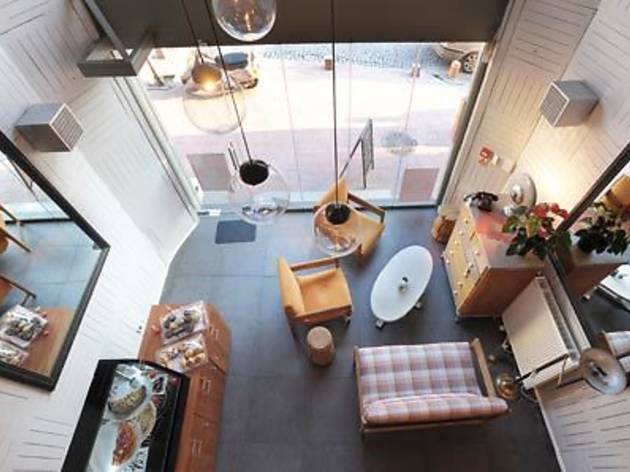 "Gozo" means "pleasure" in Spanish and is also the name of one of the smaller islands in Malta. The best part about Gozo is that it serves up healthy food. If you're a nut for breakfast, Gozo serves an all-day breakfast. To accompany breakfast, Gozo offers "Dr. Gozo's Healthy Beverage Suggestions." These bevvies include such names as "Energy Booster," "Immune System Support," "Smoother Digestion," "Detoxification," "Anti-Aging," "Healing" etc. Under the "Immune System Support" category, there's a great mix called "Time for a Booster Shot." The recipes, however, are a secret, although each one is made with fresh fruits and veggies.
Gozo's desserts, cookies and breads are made on location. The items on the menu are made with seasonal ingredients and are therefore always changing. One of the highlights at Gozo is their coffee, which is prepared using the AeroPress technique. With the AeroPress technique, the espresso is creamier but less bitter. Delicioso! In addition to being a restaurant, Gozo is also a store. Its vintage furniture boutique is called Stok 60/70 and you can check out some retro home furnishings after your meal. On sale, you'll also find the organic olive oil and soap . Jazz and bossa nova tunes are doled out at a moderate level throughout the day. Inside, there's a projector showing old jazz videos. In short, Gozo's distinct character and cuisine is a breath of fresh air in the neighbourhood.
From the menu
Breakfast selections 5-13 TL
Vegetarian, beef and chicken sandwiches 13-14 TL
Pastas 14-16 TL
Salads 11-17 TL
Entrées 17-19
Desserts 3-8 TL
Venue name:
Gozo
Contact:
Address:
Meşrutiyet Caddesi 94/A
İstanbul


Opening hours:
Mon- Fri 08.00-20.00; Sat 09.00-21.00.