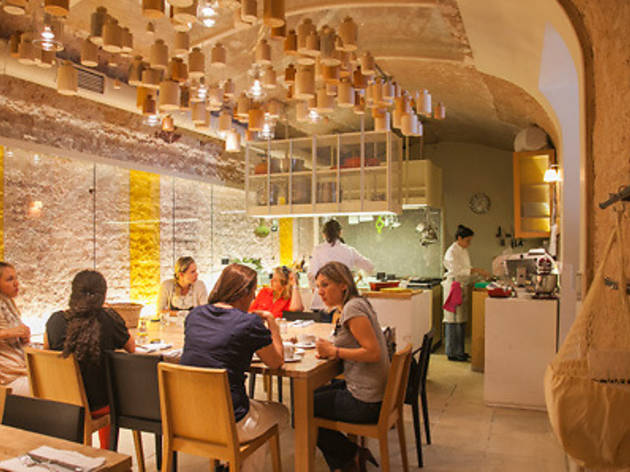 If you're at all familiar with Istanbul's eating and drinking scene, it's near impossible that you haven't heard of Didem Şenol. Here's a brief reminder: a chef trained at New York's French Culinary Institute, Şenol went on to work for two of the Big Apple's top restaurants, Le Cirque and Eleven Madison Park, before returning home to take up post first at Nu Teras, then at Dionysos Hotel Kumlubük in southern Turkey. 2010 was her year, and saw the opening of her Karaköy restaurant Lokanta Maya as well as the publication of her cook book – she even went on to snag the 'Best Chef' award at the 2010 Time Out İstanbul / Gusta Eating & Drinking Awards. Now she's before us with a brand new eatery.
As soon as you enter Gram, you'll see Şenol right behind the counter lined with strawberry tarts, black mulberry trifles (10 TL), kaşar cheese and basil brioches (8 TL), strawberry yogurt and granola (7 TL) – in short, high-calorie, hard-to-resist treats. 'Most people think Gram is a bakery or a sweets shop,' Şenol says. But don't be fooled; the real deal is in the back. In the dining section, you'll find two large wooden tables for communal meals as well as an open kitchen. Gram serves an open buffet lunch and caters to private parties of 8 to 16 for dinner.
The emphasis is on seasonal flavours here, as it is in Lokanta Maya, yet unlike Maya's 'restaurant' feel, Gram has a more casual vibe, a cultivated lightness that's evidenced by its name. 'This is neither the place for a romantic meal nor a business meeting – it's best for a quick bite,' Şenol says. They've managed to offset the size of the eatery with a takeaway option for nearby homes and businesses.
The open buffet features daily-prepared salads, olive oil dishes and warm plates; you can order whatever you wish and get a small plate (two selections, 12 TL) or a big one (four selections, 19 TL). We take Şenol's recommendation and try the watermelon with cracked wheat and tulum cheese, served on a bed of rocket leaves. As unusual a flavour as it is, it's refreshing. We then try the asparagus salad with veal tongue and fennel, one of the most popular ingredients lately, and follow that up with gravlax and beans. Şenol informs us that not only do they smoke their own turkey at Gram, but they also prepare their roast beef and gravlax in house.
Another perfect summer plate is the scallops with onions, tomatoes, carrots and a little aniseed, which lends the dish a sharp flavour. Our favourite salad was the artichoke salad with sour green plums, sweetened with cranberries – we consider ourselves lucky to have tried it before the green plums went out of season. Naturally, Gram errs on the side of gourmet when it comes to side orders, too. The strained 'dry' yogurt has an intense flavour, and the potato bread brought from Bolu could serve as a dish in its own right. Şenol lets us in on the source of the breads: here, as at Maya, most of the bread served comes from Kantin.
From the warm selections, we order the braised herbs served with fennel, fava beans, almonds and oranges, which go perfectly with the crispy sardines and capers. The latter might be a bit 'fishy' for those who don't like the taste of sardines, but there's no denying that both dishes are light options for lunch.
On the one hand we're happy to have enjoyed every bite of this nutritious, low-fat lunch; on the other, our mind is still stuck on the various desserts and cookies we saw on our way in (in fact, we ponder whether this is a cleverly arranged marketing trick). Şenol shares with us her disappointment at how most patisseries take shortcuts and scrimp on ingredients – not so at Gram, she underscores. No margarine will do in the brownie here; it's real butter that makes it so soft, and the ice cream, made with real vanilla and bitter almonds, that renders it exceptional. Yet the pinnacle of our visit, the flavour that has us leaving Gram in a sort of daze, is the linden blossom panna cotta – it tastes so incredibly good, we're grateful that Şenol, who says she doesn't like making dessert because she has no patience, tries her hand at it and doesn't leave us deprived of this dish.
With its minimal, uplifting décor, perfectly balanced, healthy and reasonably priced fare and owner whose sweetness rivals the desserts in the display window, Gram is a must-visit. Let's also deliver the news of a new Didem Şenol cook book, set to be released next year.
Venue name:
Gram
Contact:
Address:
Meşrutiyet Caddesi 107/D
İstanbul


Opening hours:
Monday-Saturday 08.30-12.00 (bakery), 12.00-15.00 (lunch), 15.00-18.00 (bakery)