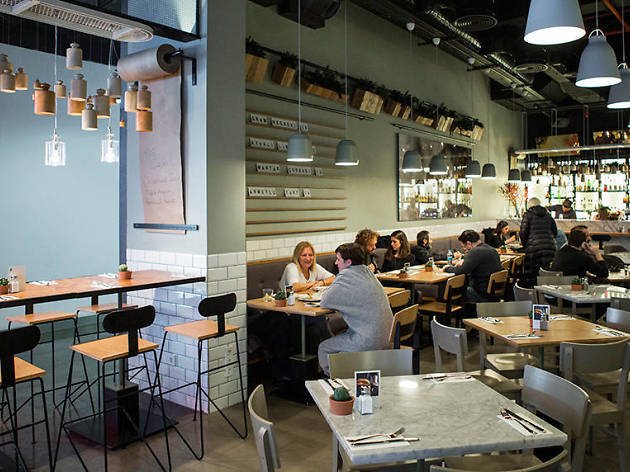 Time Out says
The new eatery by Didem Şenol, winner of the Best Chef Award at our 2010 Eating & Drinking Awards.
2016 was a year that brought many changes for Chef Didem Şenol. First, she closed down her Karaköy restaurant Lokanta Maya, then she relocated her Beyoğlu eatery Gram to Bebek. Just as we were starting to get worried that we wouldn't be able to enjoy Şenol and her team's culinary feats as often as we'd like, they managed to score a last-minute goal and conclude 2016 by opening a new Gram location in Kanyon Shopping Mall.
In addition to the baked goods and lunch menus we've grown to love at Gram's Maslak and Bebek locations, Şenol also serves dinner here, making it the perfect place to visit for a taste of Lokanta Maya's seasonal menu with Gram's practical approach. The restaurant's décor reflects Didem Şenol's culinary philosophy of making the most of whatever ingredients are available: Gram's signature lighting fixtures made from antique weights are practically the only decorations you'll see. A long bar table surrounding the restaurant looks out onto the corridors of Kanyon, perfect for those who want to grab a quick bite, though there are also other tables better suited for those who want to enjoy a leisurely meal.
The most popular section of the restaurant is the open buffet where you can build your own plate by pairing hearty dishes such as Kadınbudu köfte (fried meatballs with rice), bonito or falafel with salads and olive oil dishes. The seasonally changing menu currently features olive-oil dishes like oven-roasted Jerusalem artichokes and oranges, spinach salad with tulum cheese, and quinces served with wheat and firik (roasted green wheat). A sampler plate of these appetizers will cost you anywhere from 20 to 40 TL, making it a great option for those who want to try a bit of everything.
Some of the must-try dishes at Gram include Didem Şenol's famous mücver (fried zucchini patties, served here with a coriander-infused yogurt sauce), the best French fries you'll eat in Istanbul (with honey mustard), and the Anatolian cheese platter (which comes with gravyer cheese from Kars, cheese made with water buffalo's milk from Afyon, Erzincan tulum with cumin seeds, and quince fruit leather). Even if you're not in the mood to eat, we suggest visiting if only to escape the chill with a cup of mulled wine or hot chocolate.
Details