Günaydın Steakhouse- Etiler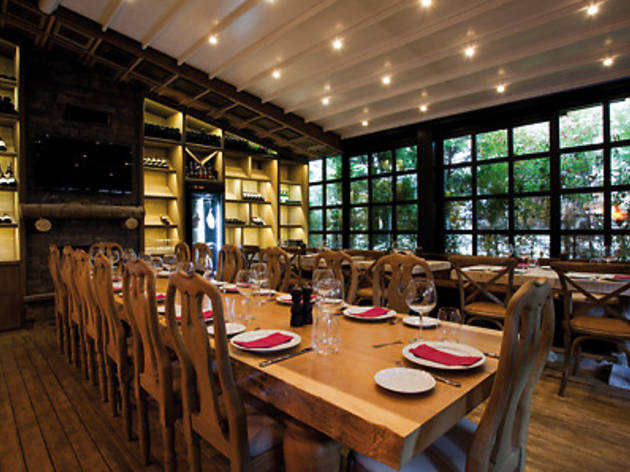 As soon as you walk in, you're greeted by cuts of meat hanging in a cold, glass-paned room. Though the room is reminiscent of a neighbourhood butcher, the orange walls, woven with blocks of salt brought from the Himalayas, give it a chic flair. It's useful, too, since the meat grows tastier as it rests here, thanks to the salt extracting the moisture from it. The garden and two-story indoor area create a mountain shack-like space of raw wood tables and chairs, leather and foal leather upholstery. The 14-person VIP room on the top floor once again houses a Himalayan salt wall to ionise the air.
Chef Batuhan Piatti Zeynioğlu oversees the meat-rich menu. Günaydın Steak House gets all its meat from its own farm in Balıkesir- Gönen, while the olive oil is brought from Ayvalık and the tulum cheese, from Erzincan. Rusk, bread, celery stalk and carrots boiled in a mixture of olive oil and special salt are brought to the table first. Service usually begins with beef broth soup, left simmering for about eight or nine hours. Once your appetite gets whetted and your stomach is ready for a meat fest, it's time to move on to the cold starters made with raw meat, like the one-of-a-kind beef sushi.
As for the main attraction, we recommend going the seafood-and-meat route and trying a classic surf & turf, made with jumbo shrimp, scallops and veal tenderloin, or the veal tonnato, which combines veal cuts with a tuna sauce. The Milanostyle schnitzel made with doublebreaded meat fried in olive oil and fresh garden sage, served alongside boiled potatoes, is also worth a try. In addition to Turkish wines, you'll find French, Italian and South African bottles in the cellar. For dessert, you can choose from among decadent flavours such as crème brûlée, tiramisu and mousse au chocolate, though we particularly recommend the crepe a la cream baked right at your table. Don't forget to stop by the imported cheese and charcuterie stand located in the restaurant before you leave.
FROM THE MENU
Veal tartare 25 TL
Beef sushi 29 TL
Dallas steak 55 TL
Veal tonnato 20 TL
Milano-style schnitzel 40 TL
Crepe a la cream 10 TL
Mousse au chocolate 21 TL
Venue name:
Günaydın Steakhouse- Etiler
Contact:
Address:
Nispetiye Caddesi Seheryıldızı Sokak 15/A,
İstanbul


Opening hours:
Daily 08.00-01.00.