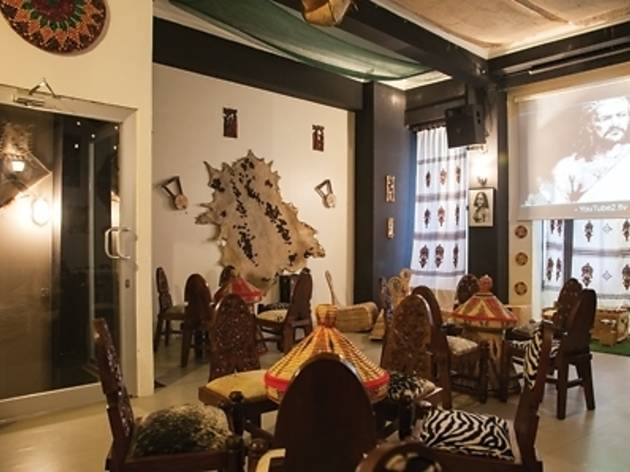 Time Out says
The search for African cuisine in Istanbul is over: Across from the Tarlabaşı Police Station in Beyoğlu, you enter She-va, a nightclub on a somewhat dodgy-looking backstreet, then go upstairs… and you'll feel like you've stepped into another world. The walls of Habesha are covered with pictures of wild animals and the chairs are upholstered with zebra prints. Playing on a screen are the music videos of African stars.
Ethiopian owner Sammy Bey brought his family to Istanbul and they opened Habesha three months ago after seeing a lack of African cuisine in the metropolis. The best way to get acquainted with this food is to order small portions of everything and share, much like in Turkey's meze culture. Injera accompanies the dishes; it is a flatbread with a spongy texture and a slightly salty and sour taste. Using pieces of injera, Ethiopians traditionally pick up bites of the main dishes with their hands. On the menu you can find boiled beets, lentils, braised lamb, lamb and chicken meat, and corn salad; the meat entrées are reasonably priced (20-25 TL). When eaten with the injera, this adds a whole new level of flavour to the food. To drink, they have a homemade African mead-like beverage called 'honey wine', along with the usual beers, hard liquor and Turkish wines.
Habesha will occasionally host events such as African dance and traditional coffee ceremonies. So far it seems to have only been discovered by members of Istanbul's African and other expat communities, but we think locals should go have a taste too.
Details