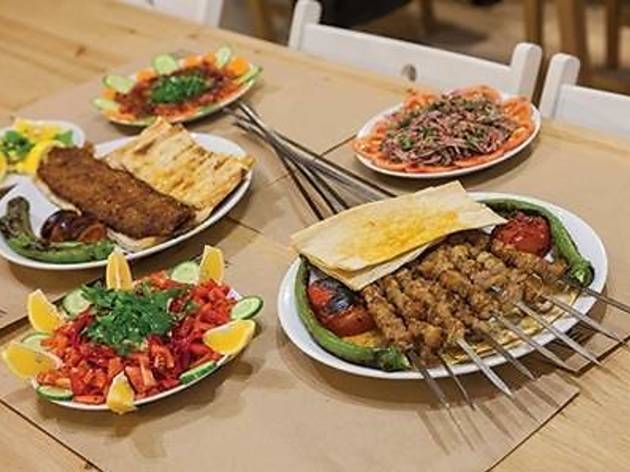 There's a reason this kebab haven is named "Harbi," a word that translates roughly to "genuine". The owners claim they make the only authentic Adana kebab in Istanbul.
Given this ambitious assertion, it's no surprise that partner Barış Gürsöz – who runs the kitchen – comes from Adana. In fact, he's only been in Istanbul for a couple of months, having shut down his place in his home town to come here at his sister's insistence. His new outpost is a simple restaurant on the side street leading up to Yıldız hill – a convenient backstreet used for avoiding traffic in Ortaköy.
The first of Harbi's two signature dishes is the famous Adana kebab, which goes by the name Harbi Adana. The second is ribs, or Harbi Kaburga. Unlike most restaurants, here the ribs arrive de-boned and skewered.
Their flavor is greatly superior to most ribs you'd find elsewhere, and at 19 TL, they're a must-try. Meanwhile, the Adana kebab is made with 120 grams of meat and served with a hearty salad. Flavor-wise, we haven't come across anything quite like it, and certainly not for 15 TL. Barış Gürsöz is sworn to protect the secret behind the taste, but he divulges that the kebab is made from 100% lamb meat that's been completely de-nerved and ground by hand using a traditional cleaver. Harbi's menu also includes çöp şiş (18 TL), lamb chops (25 TL) and chicken şiş (13 TL). While you're here, be sure to try a glass of şalgam (a bitterish mix of red carrot pickle-turnip juice) brought from Adana.
Venue name:
Harbi
Contact:
Address:
Harbi Adana Kebab ve Kaburga Muvakkit Sk 18, Ortaköy. /harbiadanakebap. com.
İstanbul


Opening hours:
Mon-Fri 08.00-23.00; Sat, Sun 08.00-00.00.