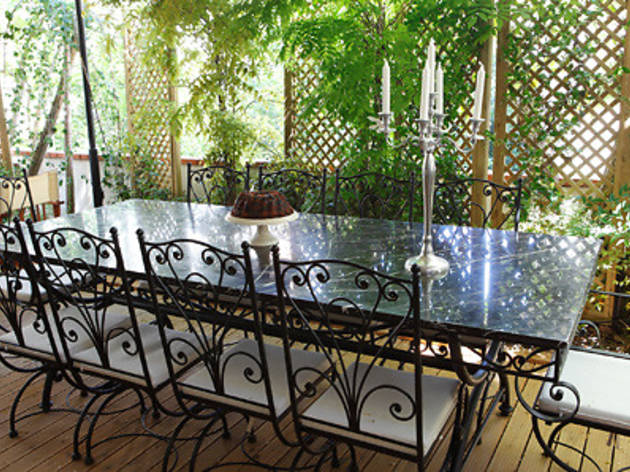 As the name suggests, Harem bears Ottoman touches, not so evident in the interior décor until you take a look at the menu. That said, Ottoman flavours aren't all you'll find here: the breakfast section, titled 'Starting the Day', for instance, features a 'Breakfast Plate' that offers everything you could possibly expect from breakfast, from Nutella to Italian peppers. You could also try the fried eggs, menemen (Turkish omelette with onions, tomatoes and green peppers) and omelettes. Amongst the appetizers are bruschetta, Harem börek (pasty with curried vegetables) and crispy salmon, which are all very tasty. From the risotto, pasta and salad selections, one is sure to fit your palate.
The main courses are listed in three sections: red meat, chicken and fish. The Sultan Burger and Hünkar Kebap are perfect for fans of red meat, while lighter options that caught our eye include Harem chicken with grains, chicken schnitzel, grilled shrimp and sea bass with saffron. Try the Harem-style sea bass served with a sauce made from an old family recipe as well as potato puree and vegetables. When it's time to talk dessert, try the light and fluffy Harem Dream. This mousse prepared with wild berries pairs perfectly with Turkish coffee served in a copper cup with a lid, just as it was in Ottoman palaces.
They've thought of the chronic dieters, as well – the menu also includes options like whole-wheat penne, tuna fish salad and low calorie desserts. The best deal on the menu? The 'summer plate', which comes with artichoke salad, fresh beans with damson plums, zucchini mücver (fried vegetable patty) filled peppers and watermelon with white cheese – a classic summertime Turkish dessert – all for 12 TL. Just make sure you don't have plans right after your visit to Harem – you just might end up peacefully dozing off in its tranquil garden!
From the menu
Harem börek 8 TL
Rocket salad with goat cheese 16 TL
Sultan burger 15 TL
Harem Dream 9 TL
Harem-style Turkish coffee 5 TL
Venue name:
Harem Cafe & Brasserie
Contact:
Address:
Başa Sokak 7
İstanbul


Opening hours:
Daily 09.00-01.00.