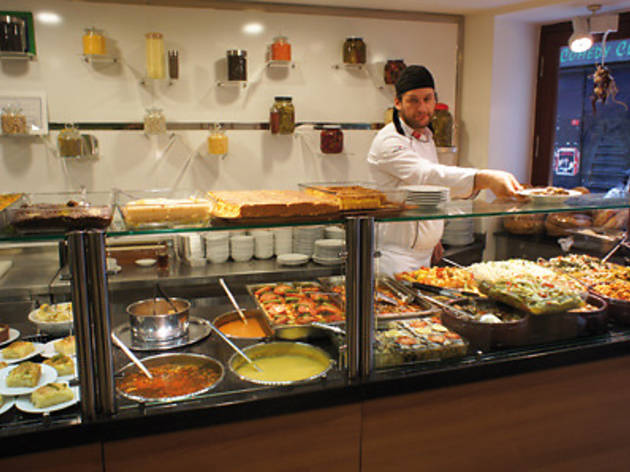 Hayvore, which means 'I'm here' in Lazca, a dialect spoken in the Black Sea coast of Turkey, is a restaurant that brings a breath of fresh air to the culinary scene in Taksim via food from the Black Sea region. The restaurant's regular clientele is mostly comprised of people working close by and several Turkish celebrities.
In addition to Black Sea flavours and over 20 kinds of stewed dishes, Hayvore also offers classic Turkish cuisine from various regions. The hamsi (European anchovy) pilaf, flavoured with onions, currants, green peppers, parsley, mint and black pepper, is a must-try dish here. Meanwhile, the collard greens stuffed with split corn, cracked wheat, rice, red pepper paste and minced meat is another alternative rich in vitamin and protein. The poached hamsi are also tasty, even though hamsi is not in season at the moment.
Three kinds of soup are prepared daily, with the collard green soup being a staple. It's made with collard greens, split corn, red kidney beans, onions, tallow and butter and comes with corn bread on the side. The desserts are a big hit at Hayvore, with homemade baklava being the perfect accompaniment to tea. Laz börek (pastry), which looks like large slices of baklava with muhallebi (Turkish milk pudding with mastic), is much lighter than the kind made in Rize. In fact, most of the dishes here are quite light, which makes Hayvore the perfect lunch destination both for those working in the area and for visitors who are curious about the gastronomic culture of the Black Sea region.
From the menu
Collard greens soup 5 TL
Hamsi pilaf 10 TL
Rice-stuffed collard greens 8 TL
Laz börek 6 TL
Venue name:
Hayvore
Contact:
Address:
Turnacıbaşı Sokak 4
İstanbul


Opening hours:
Daily 09.00-00.00.