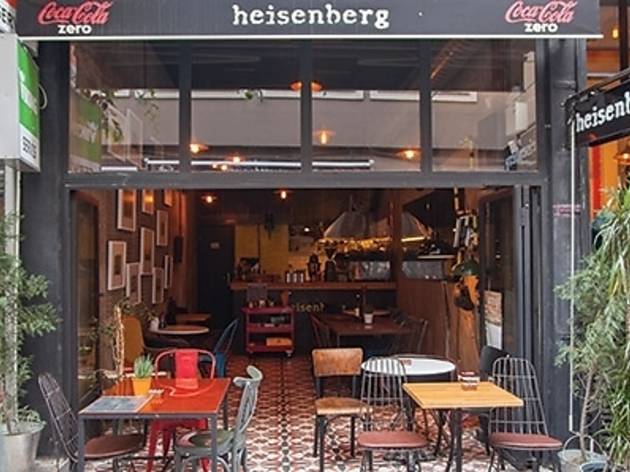 As you're reading this article, somewhere in Karaköy an old repairshop or barbershop is probably being gutted out to be turned into a café. For better or worse, the options have multiplied – but this only makes it all the more special when you actually find a fun, friendly place with something unique to offer. Heisenberg opened in September before the paint was even dry. The theme? Well, there are many themed cafes and pubs around now – but this is probably the first café in recorded history to be themed according to the TV show 'Breaking Bad'.
If you haven't heard of 'Breaking Bad', then quite frankly you must have been on meth. The hero of the story is Walter White, whose secret alias the cafe is named after. Lovers of the show will have a hard time not being impressed by the attention to detail. The vinegars and sauces are all served in test tubes, while Heisenberg yellow aprons are hung on the walls along with gas masks, and the menus contain chicken recipes inspired by some of the show's episodes. You're not likely to see anything like this elsewhere in Istanbul.
On a street full of cafés, Heisenberg still hasn't quite become Karaköyified – and you can pass hours there reading without bumping into anyone. As for the prices, you can spend 20-30 TL there and be well fed and caffeinated up. Compared to most places in Karaköy, the prices are decent – a mighty 300g Heisenberg Burger is only 25 TL, and there is much to choose from beyond the typical choices of pasta and breakfast menus. The cafe is even hinting at putting kokoreç on the menu soon. Although the food is absolutely fine, we'd recommend this more as a place to have fun or to relax.
With a vast DVD archive, instead of the typical Fashion TV display, you're more likely to be able to watch Tim Burton's 'Batman' or something equally unexpected as you fill your belly. There are not many places in Karaköy that are so relaxed and inviting. Or, if you prefer, you can munch on a hamburger and people-watch, or if you like, sit under Walter White's gasmask reliving your childhood by playing Tetris. Heisenburg is a showstopper.
Selen Bayrak
Venue name:
Heisenberg
Contact:
Address:
Kemankes Karmustafa Pasa Mahallesi Denizciller Sokak 1/B, Karakoy
İstanbul


Opening hours:
Tues-Sun 10.00 - 23.00