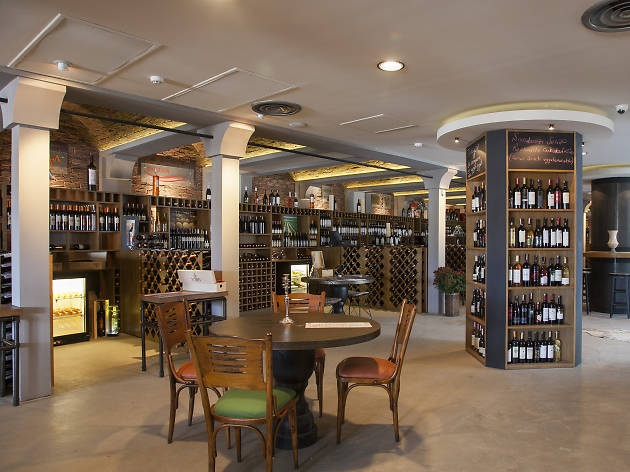 There's no need to go into detail about how domestic wines are on the rise and all the fantastic wines that large and boutique winemakers alike have made in the last few years. (We have the Turkish Wine Watch column every month for that.) Thankfully, we now have the chance to sample a multitude of them in one place. Located on the ground floor of the building that houses Kydonia and La Mancha in Kuruçeşme, İncirli Şaraphane boasts 16 stands by select Turkish wine brands. In one fell swoop, this new venue's offered us the chance to sample products by a variety of winemakers and, even better, purchase the wines at wholesale prices. Quite frankly, we were wondering why nobody had done it before.
İncirli Şaraphane gets its name from the massive fig tree in the garden. The dim interior is surrounded by winemakers' offerings along the walls, and here you can wander amongst the stands, gathering information and sampling wines. Still, we'd recommend not diving in too quickly. The options are so plentiful that it takes but a moment to find yourself drunk and unable to go on. With neighbouring La Mancha's Spanish, Italian and Moroccan offerings so well suited to the wines, it's best to go slow and savour every moment.
Let's introduce you to İncirli Şaraphane's residents. Diren Şarapları is an established company that makes wine from grapes found in the Tokat region. Last year they proudly presented the first Cabernet Sauvignon made in the region, Les Muses. Little needs to be said about Doluca, whose four wines received over 90 points at Masters of Wine 2012. When you stop by the Kavaklıdere stand, be sure to try the Pendore series' Öküzgözü and Boğazkere. The winner of 53 awards at international wine competitions in 2012, Kayra particularly receives praise for their Vintage series. Pamukkale Şarap, on the other hand, celebrates its half-century mark with a brand new wine called L, which we highly recommend to oenophiles. Another brand that racked up the awards last year is Sevilen, whose five wines received over 90 points on the Masters of Wine 2012 list.
Pay particular attention to La Wine's Mon Rêve Chardonnay Chenin Blanc, which came in first among the white wines at the Master Sommeliers Tasting Istanbul event held last month. Another brand that got a lot of attention at the same event was Suvla. With three wines receiving over 90 points (the Reserve Merlot, Cabernet Sauvignon and Suvla's newest, Sur) made this Gallipoli-based brand an instant success. At the Selendi stand, try 2010's Sarnıç Merlot, which won 85 points at the event. Our suggestion from Urla is 2011's Nero d'Avola & Urla Karası and 2011's Nexus.
Izmir's Paşaeli and Aydın's Prodom are among the new and hopeful wine brands. These days Izmir's Yazgan is gaining attention with its 2011 Vodina. Ankara's pride and joy, Vinkara's wine collection has Doruk Boğazkere leading the way amongst the reds, and Mahzen Narince doing the same amongst the whites.
If you haven't yet visited İncirli Şaraphane, where you can sample from a selection of close to 100 boutique wines by the glass and close to 500 by the bottle for reasonable prices, make your way to Kuruçeşme ASAP.
Venue name:
İncirli Şaraphane
Contact:
Address:
Muallim Naci Caddesi 107
İstanbul


Opening hours:
Daily 11.00-23.00