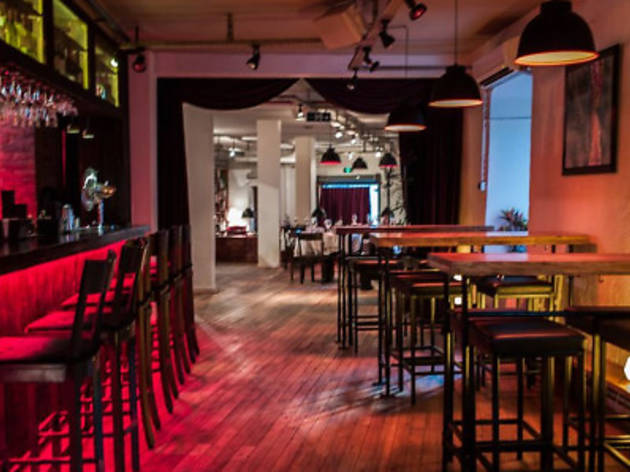 UPDATE: Owners Melis and Christopher J Maxwell have revamped their menu and reopened in the same space under the name Cochine.
There are films and novels whose incredible love stories remain resolutely fixed in your memory for years on end. Indochine is the restaurant counterpart to that idea, making you fall for its cuisine, its delicious cocktails and, perhaps more than anything else, its owners. Melis and Christopher J Maxwell met in London, where they quickly fell in love and married. Perhaps Melis had no intentions of returning to Istanbul; perhaps Christopher never even thought about making a life here – and perhaps we wouldn't be writing about Indochine had they encountered a satisfactory Vietnamese restaurant in Istanbul on their first visit. Luckily for us, they didn't. New Zealand-born Christopher J Maxwell received culinary training in Vietnam, then managed a blues club in London. It was in the club's bistro kitchen that Maxwell specialised in preparing steaks.
These days, he's one of the most devoted visitors of the hal (wholesale market) to buy fish at the crack of dawn; he's also proud to have found the best place to get fresh veggies. The Maxwell couple's approach to their Viet-French restaurant is an old-fashioned one, the only exception being that you won't find nuoc mam on the table. For those who don't know, this overpowering fish sauce is to the Vietnamese what soy sauce is to the Chinese. The reason they refrain from providing nuoc mam is that they fear it would disturb guests who aren't too used to Vietnamese cuisine. The menu at Indochine is brief but impressive, with classics like summer rolls for starters and bo luc lac (Vietnamese shaking beef) for mains. All of it's prepared with daily, seasonal ingredients; nothing's frozen or left over to the next day. The eatery also boasts an open kitchen where Chef Eray Yıldız cooks up the tantalising-smelling dishes.
Part of the ritual at Indochine is to watch Yıldız from the counter in front of the kitchen. Elsewhere, various tables dressed in white tablecloths as well as seating groups give off the feeling of home. This section also features a wall library and a fireplace, which is surrounded by candles at the moment but is sure to have us curled up on that couch like a cat come wintertime. The other half of the eatery features a bar that won't let you leave sober, thanks to delicious, elixir-esque cocktails like the Earl Grey martini. And if you happen to plop down next to Melis or Christopher, all the better. We also heard that blues jam sessions are set to take place at Indochine soon. For an introductory course, we recommend visiting Indochine between 18.00 and 20.00 for happy hour. Indochine is located on a side street that stretches alongside Kumbaracı50. All you have to do is ring the doorbell. Don't forget to make reservations. There's an allure to the place that we just can't figure out. What we do know is that if our Eating & Drinking Awards had a category for 'Couple of the Year', the Maxwells would be our sole candidate. We heard they're set to escape to Çeşme for the summer, so hurry up and visit Indochine before June rolls around. And a last word: Indochine is not a franchise, imitation or follower of the Indochines abroad.
FROM THE MENU
Summer rolls 15-17 TL
Bou luc lac 28.50 TL
Socola ran phong (soufflé) 12 TL
Earl Grey martini 25 TL
Venue name:
Indochine (now Cochine)
Contact:
Address:
Tomtom Mahallesi, Kumbaracı Yokuşu, Camcı Fevzi Sokak 36A
İstanbul


Opening hours:
Tue-Sat 18.00-02.00 (kitchen closes at 23.00).