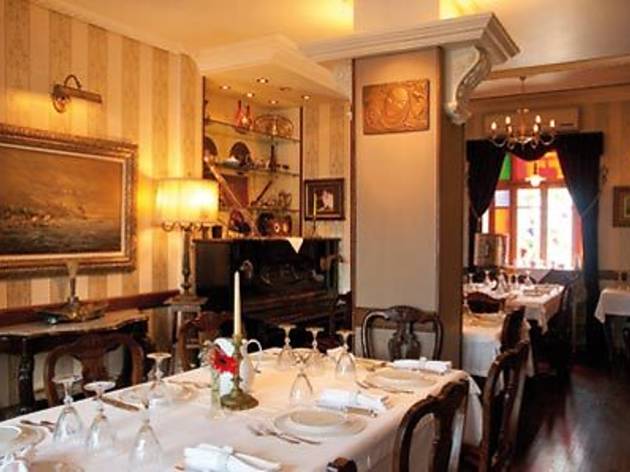 1/2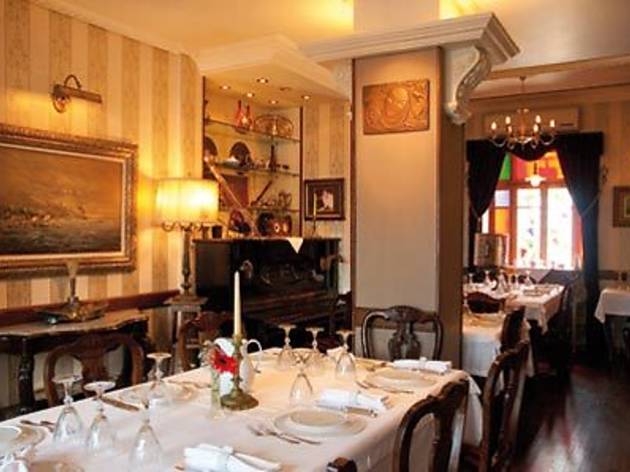 2/2
Jash means "food" in Armenian. There is the sense of stepping into someone's living room the instant you enter it on the first floor. The top floor showcases gold-leaf wallpaper, a stonewall left as is in one area of the room, burgundy velvet upholstery and curtains, candles, a chandelier, and a floor lamp. In a corner of the room is an antique piano from the house of the aunt of one of the owners. On the shelves, built into the wall above the piano, are one of the first Zildjian-made bells, taken from a church; porcelain objects; the kamaça – a bowed Armenian instrument; an accordion; copper containers; silver plates; and many other meaningful objects. In the dining room are round, rectangular and square tables with white tablecloths, for you to choose from. Lining the walls are valuable paintings of the kind you might see at museums, bearing views of old Istanbul. The ambience remains intact even in the lavatories, with Rebul kolonya, dried flowers and piped-in nostalgic music.
On the menu, you will find an Armenian alternative to every dish specific to Istanbul cuisine, starting with the soup du jour and spleen soup. Cold appetizers include roast beef, roast veal, smoked fish, cheese and delicatessen specialties, toast with salmon, grilled vegetables, and the cheese and spinach soufflé. Prices range from 8-20 TL. Hot appetizers include layered cheese and meat pastry dishes, pastrami pastries, muskapastries notable for their distinctive triangle shape, fried liver served with onions, fried squash, and cheese croquettes. We recommend the "yayamın" ('grandmother' or 'grandfather' in Armenian) potato patty prepared with grated potato, red pepper and cheese, for 10 TL.
There is a wealth of distinctive salads as well, whether to enjoy as side dishes or by themselves. In addition to the Canım Istanbul salad – prepared with arugula, lettuce, tomatoes and vinaigrette sauce, other salads include the Herb salad, the tender Spinach salad, salad with Halloumi cheese or Salmon, and Caesar salad. We recommend the 'Horiatiki,' prepared with thick cuts of tomatoes, cucumbers, onions, bell peppers and feta cheese. Pasta and rice dishes make up the last heading before the main dishes, and include pasta Neapolitan, pasta Bolognese, as well as Mediterranean or seafood pasta dishes, vermicelli, crispy Istanbul mantı, cheesy crème of wheat, mushrooms and seafood, salma(crème of wheat with mussels in wine sauce), and rice with apricots and almonds. Prices range from 10-18 TL.
Main dishes centre around homestyle meat dishes and include hünkar be¤endi–a meat dish made with puréed eggplant, stuffed grape leaves, lamb cutlets, veal and pork chops, sirloin steak, meatballs, Istanbul kebap, grilled chicken, schnitzel, fried fish, grilled salmon, chicken with soy or curry sauce, and 'harisa' (chicken with pounded wheat). We tried the hünkar beğendi and found it scrumptious. If you get the chance, we also recommend you try the scorpion fish. Our favourite part of the menu was made up of dishes, for four people, try the lamb stewed with lettuce and fennel, steamed fish, and baked pork. A large serving dish is brought to your table in a way that feels like you're eating at home. You can divvy it up into individual plates or partake from the serving dish. A note for those who are considering ordering from this part of the menu: These dishes take 45 minutes to prepare.
If you are among those who enjoy conversation over a glass of rak› or wine with appetizers at the outset, we say, be sure not to miss out on the main dishes either. Leave space for dessert and coffee after dinner – share, but only if you must! Choices include pastry rolls coated with chocolate, served with farina ice cream; lemon sorbet; zivazeğ (bread with clotted cream); and palaçinka (a turnover, with sour cherry liqueur). This restaurant is one of a kind. Go discover it for yourselves right away. If you go on Friday or Saturday evenings, be sure to call for reservations in advance.
From the Menu
Spleen soup 8 TL
"Yayamın" potato patty 10 TL
Horiatiki 12 TL
Istanbul kebap 16 TL
Lamb stewed with lettuce and fennel (for four) 80 TL.
Venue name:
Jash
Contact:
Address:
Cihangir Caddesi 9
İstanbul


Opening hours:
Mon-Sat 11.00-00.00; Sun 09.30-00.00.