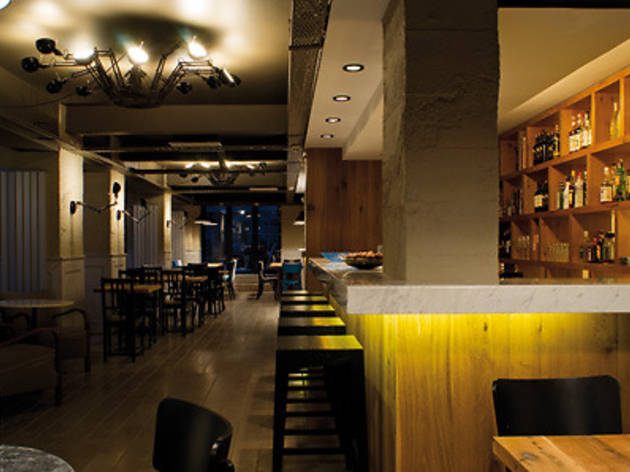 We are overjoyed whenever a space with a great garden and the food to match opens up in Istanbul, and Juno is no exception. As soon as you enter Juno, you catch a glimpse of the bar. The walls are covered in colourful mosaic pieces that have been transported over from Hungary for a very chic effect. The bathroom doors are bedecked with childhood photographs of Ömer Noyan and Selin Tümer, owners of the restaurant.
The menu offers a wide variety of foods to suit every palate, but the list is not exaggeratedly long, either. Different kinds of salads, pizzas, pastas, sandwiches and entrees are available. As appetizers, we recommend the cheese and charcuterie plates, which come for one or for two. If you're at Juno in time to have breakfast, look past the eggs and mini-pizzas right to the sweets section for French toast and the mouth-watering toast with honey, banana and pistachio paste. Selin Hanım's muesli with lots of fruit is a must-try, as is the lemonade, best enjoyed in Juno's oasis of a garden. Here, lemonade comes in a two-tiered pitcher, with lemon and orange slices in water on the lower part and an intensely flavoured mix of lemon essence and sugar up top. To keep with the refreshing taste of lemonade, we order the light grain salad with baby spinach, wheat, millet and lentils. Then we try the thin-crusted pizza with spinach and cheese curd, which may just be the lightest pizza on earth – definitely a 10 out of 10 for us.
For dessert, we give the 'lemon cloud' and Tire cheese curdblack mulberry combination a try. The sweet of the black mulberry and tang of the cheese curd are so well balanced, we have to insist you try it. As an eatery in the middle of the city that pampers both your stomach and your spirit, Juno's sure to be where those in the area come running with their laptops for the quiet and the breeze.
From the menu
Breakfast plate 21 TL
Chicken wrap 14 TL
Tahini salad 16 TL
Juno burger 19 TL
Fish & chips 24 TL
Venue name:
Juno
Contact:
Address:
Mim Kemal Öke Caddesi 15
İstanbul


Opening hours:
Mon-Fri 11.00-23.00; Sat 11.00-02.00.