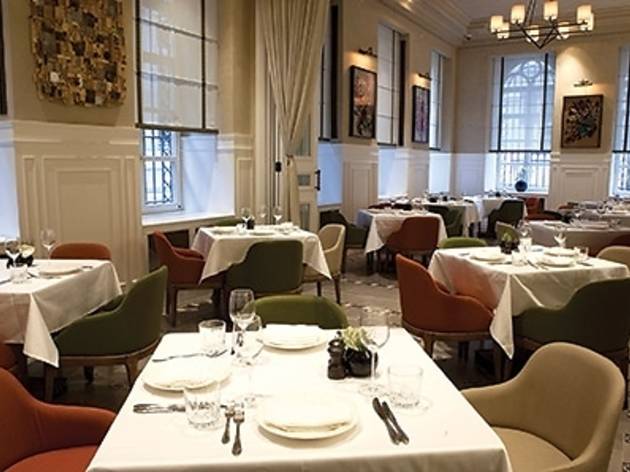 The latest outpost of the Istanbul-based hotel chain Vault Karaköy, The House Hotel is located in a building which dates back to 1863 and which once housed the Crédit Général Ottoman. Naturally, the building's 151-year history as a bank is palpable in each detail, from the hotel's name to its interior décor.
Located on the ground floor of the hotel, Kasa Lokanta has a creative menu where classic Turkish flavors are reinterpreted with a modern twist. Sure, you might have heard many other restaurants make this claim, but when it comes to Chef Volkan Çengel – whose interests lie in molecular gastronomy and the modernization of Turkish cuisine – the expression takes on a whole new meaning. "Instead of offering unfamiliar flavors," Çengel says, the aim is to "retouch the flavors we're accustomed to without losing any part of their natural state." The menu is seasonal and the ingredients travel to the kitchen from all over Turkey, like the olive oil, olives and salted yogurt from Antakya or the wheat and sundried vegetables from Gaziantep.
One notable cold appetizer is the stuffed zucchini blossoms made with 22 different ingredients, inspired by the 'Melceü't-Tabbâhîn' (which translates to 'Refuge of Cooks'), the first printed cookbook of Ottoman cuisine. Other must-try dishes include the fennel in olive oil as well as the cibes (an Aegean herb that grows at the root of cabbage) and mastic in olive oil. From the warm appetizers, our favorite pairing is the grilled octopus served with Harissa sauce, which is a combination of roasted peppers and tomatoes with cumin and other spices. If you're in the mood for a truly special meal, look no further than the short ribs slow-cooked for five and a half hours and topped with a sauce that's likewise prepared for eight hours. A lighter option is the chicken in lemon sauce. When it's time for dessert, one bite of the tahini soufflé or the keşkül (almond-based milk pudding) with mastic and we guarantee you'll be hooked. Gökçe Algan
Venue name:
Kasa Lokanta
Contact:
Address:
Kasa Lokanta, Vault Karaköy, The House Hotel, Bankalar Caddesi 5, Karaköy.
İstanbul


Opening hours:
Daily 09.00-00.00.