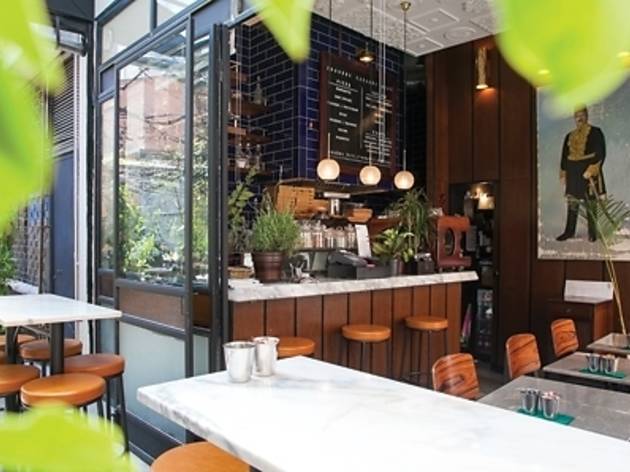 Time Out says
Karaköy's growing popularity has resulted in yet another new boutique restaurant opening on Kılıç Ali Paşa Mescidi Sokak. Komodor combines flavours of the Aegean with thin-crust pizzas and salads, and makes up in taste what in lacks in size.
The tiny space is only about three meters square, with just two tables, as well as some bar stools. It has the air of a typical humble eatery but with a modern flair, and locals have quickly embraced it. As we readied to give our order, owner Boran Güney came by our table and explained how they prepare each dish. Komodor has a daily soup, four kinds of salad, seven varieties of pizza, rosemary steak cooked to order and a daily dessert on the menu. The restaurant sources organic ingredients from Urla, something that set the food apart from that at similar eateries; when our dishes arrived, the freshness was clear in the taste.
Since the soups change on a daily basis, we were lucky to be able to try the gazpacho on our visit. The salads in general were not much different from those found elsewhere but the Deluxe –made with wild rice, pomegranate, toasted almonds, chickpeas, mint, basil and a citrus vinaigrette – was so tasty we crossed our fingers that it won't be removed from the menu.
One of Komodor's pizzas, the Hektor, is topped with homemade sucuk (spicy beef sausage), cheeses and a special tomato sauce, then sprinkled with arugula. The Milas pizza is quite a treat too, made with wild greens from the Aegean region and a special mix of çeçil peyniri (brined string cheese) and goat cheeses instead of mozzarella. The also intriguing Buonofile is a pizza made with sliced steak and beetroot. Not in the mood for pizza? We recommend the Buono salad, prepared with sirloin steak, marinated red onions and mustard seeds, and topped with walnuts, arugula and a blueberry-balsamic dressing.
There's only one choice for dessert, but it changes daily. You might chance upon a 'conmacto', a napoleon made with brown sugar and vanilla-cream filling. They also have a cafe cortado, their take on a breve, best enjoyed with some cinnamon cookies. But if we had our druthers, we'd always go on the day they have lor (a fresh, soft sweet cheese) with a mint-brownie, served with a dollop of ice cream.
For those who want a taste of the Aegean, or miss the summer days spent in Çeşme, an afternoon in Karaköy, with the smell of the sea in the air, and a meal at Komodor is the next best thing. Note: For large groups, we recommend booking a day in advance and letting the restaurant know if you want to order the rosemary steak so they have it on-hand fresh from the butcher.
Details