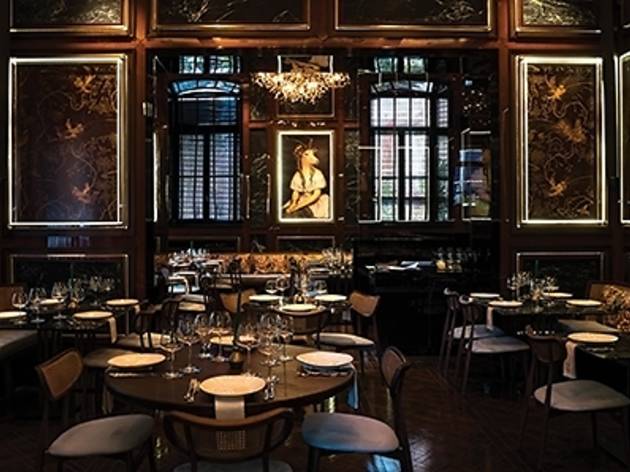 There's no denying that İzzet Çapa has made significant contributions to Istanbul's gastronomic scene. For years, he's been providing us with eateries distinguished by fresh concepts, unique flavors and top-notch entertainment. Our excitement grew with every new restaurant Çapa opened, so it's no surprise that his latest, Konsolos, generated plenty of buzz before it opened.
Located in the auxiliary building of the historic Palazzo Corpi building that's been transformed into Soho House, Konsolos is the most formal among Çapa eateries. It may be the grandeur of the consulate building, the extravagant décor or even the ceremony of being greeted at the door, but as soon as you walk in, you'll find yourself wondering if you're sufficiently dressed up. The décor bears the mark of architect Mahmut Anlar, who infused the dimly lit dining space with plenty of black to convey an elegant, yet almost austere mood. The dining area alone can seat up to 90 people, with additional tables provided for al fresco dining.
Konsolos draws on the expertise of Executive Chef Mehmet Gu¨ler and Sous Chef Uğur Ekren in its quest to "redefine fine-dining." The menu is a balanced blend of international favorites and Turkish cuisine, with shareable dishes like chicken wings, lamb ku¨şleme and kokoreç as well as steamed buns. Our favorites were the hummus with Bosnian meat (30 TL) and the artichoke trio (36 TL) featuring melt-in-your-mouth baby artichokes served on a bed of seasonal greens.
For the main course, we recommend the slow-cooked lamb shank (85 TL) served on a bed of noodles and green lentils or the 61°C Salmon (80 TL). As the name suggests, the salmon is cooked sous vide for 17 minutes at 61°C, ensuring that it loses none of its aroma or nutritional value. The service staff is quite knowledgeable and helpful. On our visit, they came to our rescue with their dessert suggestions for Passion Fruit Pudding (28 TL) and Nitro Profiteroles (27 TL). If you're in the mood for something lighter, you might also try the aşure (20 TL), green apple (22 TL) or rakı-cheese flavored sorbets (19 TL).
In addition to serving lunch and dinner, Konsolos also hosts five o'clock tea and Sunday brunch. If you opt for the latter, you'll hear plenty of jazz music thanks to the Ku¨rşat Başar Trio. No matter when you go, keep in mind that reservations are a must. Elif Eren Altınarık
Konsolos
Meşrutiyet Caddesi 56, Beyoğlu.
(0212) 219 65 30 / konsolosistanbul.com.
Mon-Sat 19.00-01.30; Sun brunch 11.00-16.00
Venue name:
Konsolos
Contact:
Address:
Meşrutiyet Caddesi 56, Beyoğlu
İstanbul


Opening hours:
Mon-Sat 19.00-01.30; Sun brunch 11.00-16.00