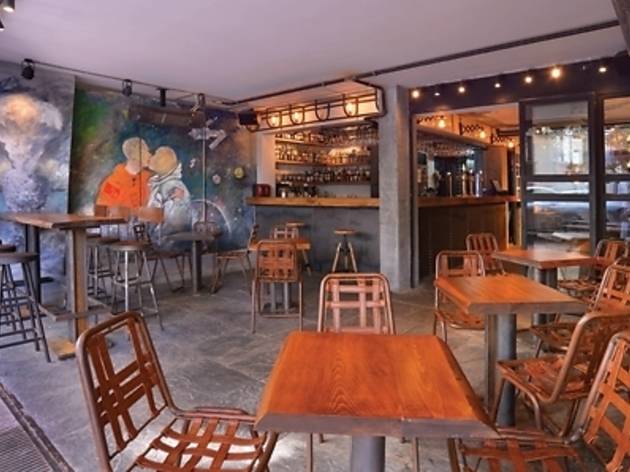 Time Out says
The colder weather might be one element forcing Nişantaşı regulars towards Topağacı, but this migration could just as easily be traced back to Kozmonot, a gastro-pub with a décor that's inspired by the Cold War-era Soviet space program. As soon as you enter the eatery, you'll be greeted by a mural depicting Yuri Gagarin and Neil Armstrong locked in a kiss, as well as astronaut helmets used as décor. Even the menu is shaped like a dossier, handed to you as if you're about to embark on a mission to outer space.
The museum-like décor should come as no surprise, as Kozmonot's owners Zümre Humbaracıbaşı and Göksu Şener are also partners of the design firm Design Parallax. The former chef of Akasya on Büyükada, Mert Karuk oversees the menu featuring items like beef or pork sausages with Gruyere cheese (23 TL), and the Kozmonot Cheeseburger (30 TL) with a 200-gram burger patty and barbecue sauce. You'll also find plenty of dishes to share here, though we particularly recommend the fries with white truffle, parmesan and chives (13 TL).
Orkun Taşçı is in charge of the bar, where he serves up cocktails with space-themed names like Sputnik and Buzz Aldrin. The bathroom is no exception to the overall theme, affording you the chance to watch satellite images while you're doing your business. Kozmonot tends to get pretty crowded after dark, and what's surprising is that it even attracts the middle-aged crowds who generally frequent Corridor and Touchdown in Nişantaşı. Thanks in part to its unique concept, it just might be the most popular place in the city right now.
Details