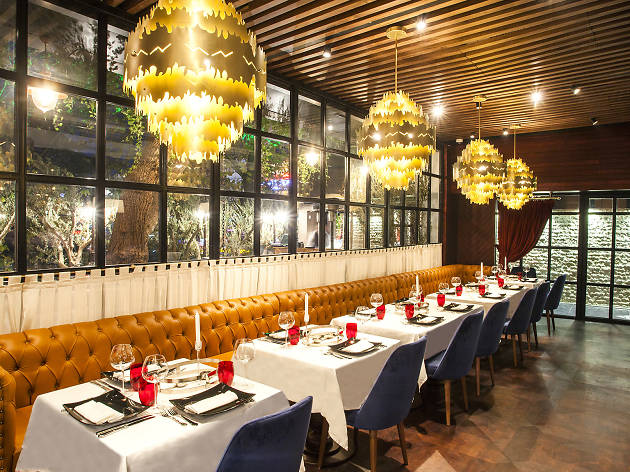 Time Out says
La Boucherie is actually the name of a popular dish at La Boom in Emirgan – so popular, in fact, that it led to the opening of a new restaurant named after it. The recipe comes from French chef Arthur Vonderheyden, who's responsible for upgrading the quality of La Boom's menu since he took over the kitchen. The signature dish is presented somewhat differently from Vonderheyden's birthplace: here, it's placed in the middle of the table on a metal tray that resembles what you might see in a kebap joint. It consists of sliced beef tenderloin served with a buttery sauce whose recipe Vonderheyden keeps a secret. Candles underneath the tray keep the beef warm as matchstick fries are served on your plate.
With a starter salad of caramelized walnuts, apple and Roquefort, this prix fixe menu costs 86 TL, making it a cheaper deal than what you'll find at La Boom. For dessert, you have your choice from options like crème brûlée, chocolate mousse and homemade ice cream.
La Boucherie is, above all else, a smart investment – one that relies on the bright idea of taking the most popular dish at a well-known restaurant like La Boom and offering it as a shareable course in an elegant setting. The dining area might be narrow, but the garden and open kitchen help give the restaurant an airy feel. Despite the formal décor of white tablecloths and curved leather booths, La Boucherie succeeds in capturing a laid-back vibe with plates hand-painted by Turkish artist Burhan Doğançay and paintings by Sedef Gali that depict Hollywood icons. La Boucherie also has a secret room that relies on the same idea behind Gizli Kalsın, the hidden bar inside Pizza Emirgan. This is the room to visit for after-dinner cocktails and DJ performances.
Vonderheyden says Turks' habit of ordering shareable dishes and trying a bit of everything was a decisive factor in how La Boucherie presents its tenderloin. Even for groups where people have different preferences for how their meat is cooked, everything comes on a single tray, separated by levels of doneness. As you might have guessed, the chef's recommendation is to order your tenderloin cooked rare.
Details
Address:
Nispetiye Caddesi 15
İstanbul


Contact:
Opening hours:
Mutfak her gün 12.00-15.00 ve 18.00-23.00 arasında açık.
Best selling Time Out Offers