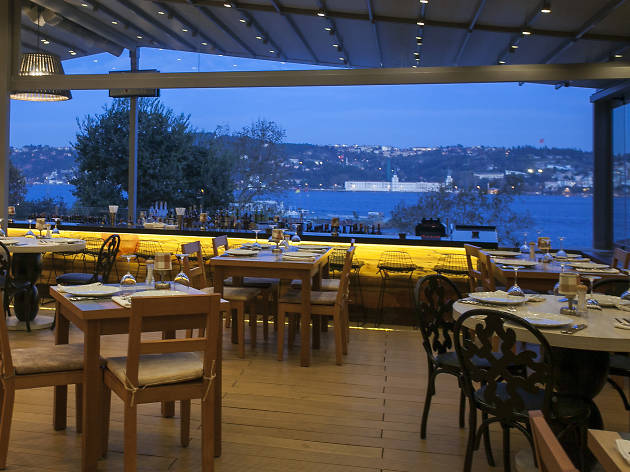 It's hard to know what to expect from an Istanbul eatery that describes its menu as 'Mediterranean cuisine', as that could mean just about anything. La Mancha, on the other hand, draws some specific boundaries to distinguish itself from the rest. The menu is a mix of Italian, Spanish and Moroccan cuisine, with a focus on regional, not touristic, eats.
The best thing to do here is to skip the main courses and opt for a selection of hot and cold tapas for a tasting menu of sorts. For instance, you could try the assorted crispy seafood, crispy Spanish potatoes served with a spicy aioli sauce, the Sicilian Caponata made with olives, eggplants and capers in a tomato sauce, and the veggies grilled with red wine vinegar and virgin olive oil, all alongside a glass of wine, for a perfect lunch. The hot tapas range from 9-34 TL, while the cold range from 8-42 TL.
If you're in the mood to eat something filling, your options are plenty here, as well. The Moroccan lamb tagine (35 TL) is soft and aromatic, thanks to the pickled lemons and 'ras el hanout' spices. The pasta options are decidedly Italian, each (except for the bucatini) prepared in La Mancha's kitchen. Still, the bucatini (22 TL) is worth a try, if only for the ritual: the middle part of a Parmesan wheel gets caramelised with a blowtorch, then in goes the pasta, swirled with cheese and then topped with fresh black pepper before it's served. The smoky flavour is to die for, though we found we had to ask for a little extra Parmesan to get it just right.
La Mancha's 150-bottle wine menu would easily satisfy any oenophile, though the cocktails prepared with fresh fruits are worthy of praise on their own. Just settle yourself by the long wooden bar and take in the Bosphorus view – you won't regret it...
Venue name:
La Mancha
Contact:
Address:
Muallim Naci Caddesi 107
İstanbul


Opening hours:
Daily 11.00-23.00.