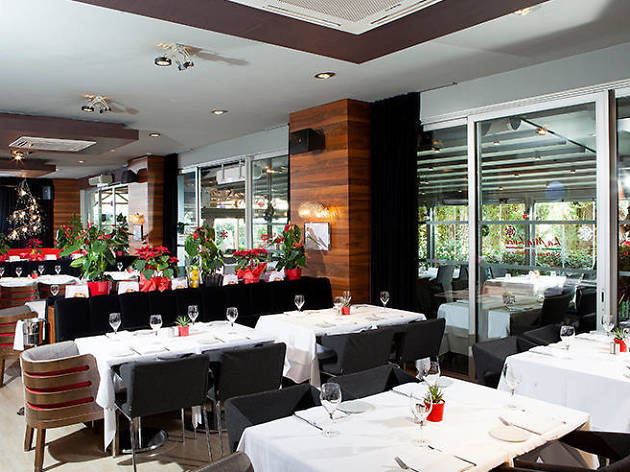 Owned by businessman Kutlay Erdal Şimşek, the eatery emerged as a place to host his foreign guests as well as utilise the venue's already-existing clientele to offer both domestic and imported high quality foods. Lastly, the need for more fine dining restaurants on the Asian side cemented the venue in Suadiye.
Breakfast is big at La Mia Luce, though it isn't the open buffet or lavish morning meal you'll find in most restaurants. Instead, here you order from the a la carte menu of unlimited domestic or imported cheeses and other breakfast favourites for a fixed price of 8-15 TL per item (kids under 12 eat for free).
We seat ourselves in the shaded garden and each order a glass of white from the wine menu of mostly domestic vintages. We try not to fill up on the homemade fresh bread as we wait for the bruschetta. It isn't the overly garlicky tomato puree on toast you might be served at other restaurants. Instead, this slightly spicy, olive-laden version comes on crispy pita slices for a truly light starter.
We then try the wonderfully presented carpaccio di polipo (32 TL), or octopus carpaccio, which comes with cherry tomatoes, capers, rocket, olive oil and balsamic dressing; it's the opposite of leathery, with a fall-apart-in-your-mouth texture and a wonderful sour kick from the capers. For those who don't like octopus, the carpaccio di manzo, or veal carpaccio, is a close runner up.
From the salads, we sample the hearty artichoke salad with samphire, purslane, fava beans and yellow and red peppers, then follow it up with 'bari', or seafood salad with calamari, shrimp and octopus – all of which are flavourful enough to prove that La Mia Luce keeps its promise of serving fresh seafood.
We order a variety of main courses, the first of which is the grigliata di branzino (36 TL), or grilled, skewered sea bass. The soft sea bass goes well with the roasted lemon and peppers, though the star of the dish is the creamy potato puree, one of the best we've tasted in a while.
We just can't get enough of the seafood, so we order the risotto alla marinara, or seafood risotto. Although the calamari, octopus and mussels are flavourful, the risotto is served much softer than it should be, and its heavy sauce overwhelms the taste of the seafood.
Then we move on to two essential Italian dishes: pizza and pasta... We opt for the smoked veal pizza with mozzarella, rocket and a generous sprinkling of Parmesan cheese. It attests to the cook's perfect timing – a little longer in the oven and the meat would have gone dry; a little less and we'd be eating uncooked dough. Yet the most decadent and indisputably best dish of our extended feast is La Mia Luce's handmade tortellini alla panna (27 TL) with mushrooms, peas, ham and a satisfying dose of Parmesan. The moment we bite into the soft, almost-too-creamy tortellini, our tastebuds rejoice at the flavour of fresh cheese. It is, dare we say, some of the best pasta we've tasted in all of Istanbul.
A feast like this could only end with the dolci piatto (24 TL), which features small portions of crème brûlée, tiramisu, decadent warm chocolate cake and Mövenpick ice cream. As we take leave of our gracious hosts, we promise to return to La Mia Luce's green garden at our earliest convenience. And we mean it.
Venue name:
La Mia Luce
Contact:
Address:
Plaj Yolu Sokak 18, B Blok
İstanbul