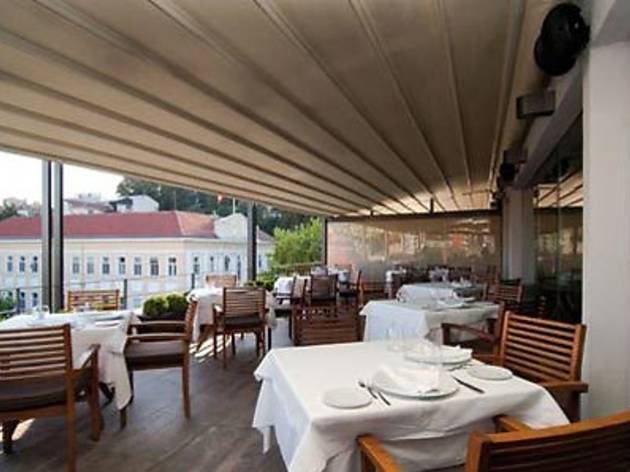 La Moutte-meaning seagull in French- opened at the terrace floor of Tomtom Suites. Its chefs-Üryan Doğmuş and Cihan Kıpçak- were trained in United States and Switzerland and worked with master chefs in these countries. In Turkey, Üryan Doğmuş was present in Mikla's and Cihan Kıpçak was in Mimolett's kitchen. The incredible view and the atmosphere in La Mouette is nothing compared to the food that we are about to mention.
La Mouette is the ultimate modern Turkish Cuisine restaurant in the city where you can find unthinkable combinations that unexpectedly taste good like orange flavored veggie puree served with lemon shrimp. In a society where the white Ezine cheese is eaten with watermelon, what do you think would come out of a kitchen which considers this reality? Who would have thought or who could succeed making an Ezine cheese sorbet? Watermelon salad served with Ezine sorbet, green sprouts and a piece of francala bread is one of the impeccable appetizers you can order in La Moutte as well as the duck pastrami served with pressed melon, lime confit and 'Küsleme böreği' which is served with meze creams.If you are into game meat, after the duck pastrami, you should order the duck breast which comes with plain walnut cake and glazed carrot taglietelle. Our favorite is the sauté beef glazed with rose water and saffron and served with mashed apple and potatoes. The chefs use the plates as a canvas so much that you can't sacrifice to eat the food in them. Menu here in La Mouette changes seasonally.
Besides these dishes, there is a good chance you won't recognize the magnificent view of Golden Horn and Bosphorus or your lover sitting across from you. After the main courses, we recommend you don't keep yourself away from a feast of desserts. Our picks are 'ayran' panna cotta with earl grey syrup, 'zerdali' apricot puree with baked almonds and vanilla flavored buttermilk cream, water pudding with cranberry syrup and rose granita, 'mi cuit' hot chocolate cake, sesame paste-molasses parfe and Velouté strawberry with 'salep' ice cream. From the appetizers to main courses, desserts and the general atmosphere, we can say that this was the best meal we had lately. Make sure you pay a visit to Tomtom for La Mouette. Don't forget the reservations because there is a limited capacity!
Venue name:
La Mouette [Kapandı]
Contact:
Address:
Boğazkesen Caddesi Tomtom Kaptan Sokak 18
İstanbul


Opening hours:
Mon-Sat 19.00-23.30.