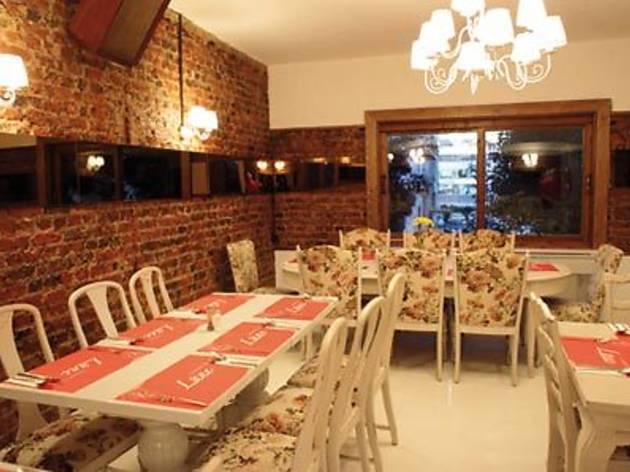 Lane means "beautiful home" in Ottoman Turkish, and Lane Turk has taken over a villa that fits this description. On the ground floor of the villa, there is an open kitchen where last minute preparations are made, as well as several tables. The back section of this floor is all white, opening up to a porch and a garden with wooden furniture. The colour white is also dominant in the interior, which is decorated Britishstyle and with its original stone walls kept intact. There are whitewashed tables and chairs with floral patterned cushions bought from the flea market.
Lane Turk focuses on Turkish cuisine. The home-style Feraye mantı (Turkish pasta filled with meat) is one of the most favoured dishes at Lane Turk. The menu features soups; köfte (meat patties) with kaşar cheese, pide, kasap (butcher's cut) and homemade varieties; vegetarian, boiled and Feraye mantı types; salads and pastas.
Lane Turk is also planning events in the coming days- even if the program is not yet set in stone - such as a modern play accompanied by dinner. Their top floor is especially suitable for dinner events. In the summer, the garden and 2 storeys make Lane Turk a an ideal venue for weddings or corporate invitations. They also offer exclusive menus for these types of events.
From the Menu
Lentil soup 4 TL
Kasap köfte 12 TL
Pumpkin dessert with syrup and walnuts 6 TL
Ayran (a Turkish beverage made with yoghurt) 2 TL
Venue name:
Lane Turk
Contact:
Address:
1. Gazeteciler Sitesi Keskin Kalem Sokak 45
İstanbul


Opening hours:
Mon-Sat 08.00-19.00; Sun 10.00-16.00.