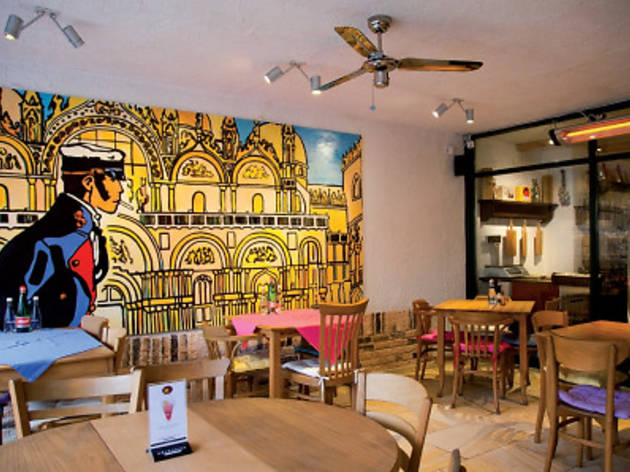 The note on the top right-hand corner of a handwritten menu says it all: the words 'fast food' are crossed over, with 'slow food' written out to the side in large letters. That's your cue to calm down, enjoy the space and the food without barking 'Where's my pizza?' Receiving your pizza within half an hour can be a merit in delivery, but it isn't here.
Established by Gökhan Fermanzade and his Venetian business partner Fabio Furlan, Leon Trattoria shakes up the expensive, posh image of Italian restaurants in Istanbul. If you ask Fermanzade, this isn't a restaurant at all. Apparently what they've struggled with the most since they opened their doors has been getting Istanbulites to accept the untouched, bare form of Italian cuisine. The Neapolitan pizzas arrive at your table in one size, unsliced. There's no minestrone soup or spaghetti Bolognese on the menu. None of the sauces are kept ready to go; they're all made the moment you place your order. In short, the way food's prepared at Leon Trattoria may not be what we're accustomed to, but it just might be what nature has in mind.
The menu includes starters, pizzas, pastries, main courses, salads and, of course, desserts. The Venetian 'cicheti', or starters that recall Spanish tapas dishes, are not only appetising, but they might not leave room for much else, too. We particularly recommend the strong flavour of gamberi in saor with olive oil and onions. The pizza menu is extensive, so we try our luck with the vesuvio, which includes ham and parmesan. Since the pizza oven is situated right in the middle of the eatery, we get to watch the chef add cherry tomatoes and rocket on the crispy pizza dough. Neither the cheese nor the tomato sauce is overwhelming; we can taste every ingredient on the pizza on its own. Lastly, we try spaghetti alle vongole, or spaghetti with clams. The spaghetti arrives al dente and the clams, fresh; eating it is a bit laborious, but it's worth the flavour. It was lunchtime when we visited Leon Trattoria, but we've got half a mind to go back during dinnertime, when they also offer live music and homemade wine. Wednesdays are the day of the accordion, while Thursdays host jazz nights. Make a note.
From the menu
Spaghetti with clams 18 TL
Sea bass with pistachio 19 TL
Pizza vesuvio 20 TL
Tiramisu 10 TL
Homemade wine (by the glass) 9.50 TL
Venue name:
Leon Trattoria
Contact:
Address:
Ahmet Fetgari Sokak 40/A
İstanbul


Opening hours:
Monday-Thursday 10.00-23.00; Friday, Saturday 10.00-00.00.