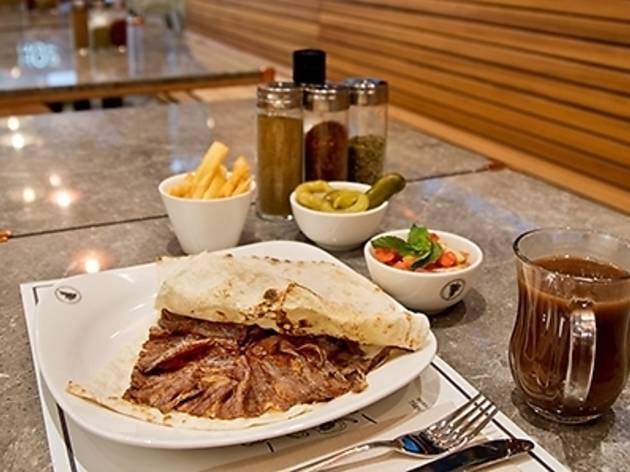 ne of the preeminent upscale restaurants in town, Sunset Grill & Bar has made a name for herself for the past two decades as a restaurant that serves high-quality food at equally high prices. This is no easy feat in a city with food and drink scene that experiences great volatility. Owner Barış Tansever is now capitalizing on this success by entering the döner business with his new restaurant, Lezzet Co.
The aim of Lezzet Co. isn't to dress up Turkish flavors and sell them at high prices. What Tansever seeks to do instead is to promote one of the country's most popular dishes with a brand that emphasizes quality of ingredients and flavor. At Lezzet Co., the beef and lamb are sourced from local producers in the Thracian and Marmara regions, while the hazelnuts come from Ordu, the pistachios from Gaziantep, the yellow wheat flour from Konya, and the baklava dough from Trabzon. Unlike other döner joints you'll see around town, the signature dish is smoked with oak and cooked in the back so as to protect it from the dust and debris coming off the street. It's flavorful enough to rank among Istanbul's best döners, cooked medium with the perfect amount of fat. The restaurant also serves salad, fries and pickles separately so as not to muddle the flavor of the meat. The döner can be ordered plain, over rice, in a dürüm or in a bun.
It's unusual to find a döner joint that surprises us with other flavors, but Lezzet Co. serves a mean lentil soup made with tarragon brought from Gaziantep – we daresay it's worth visiting the restaurant for a hot cup of this soup alone. The spicy ayran made with pickle juice and buffalo yogurt is another must-try. If you're in the mood for dessert, you can also try Lezzet Co.'s homemade baklava or Maraş ice cream. It's not everyday that we meet a brand where every item on the menu is a hit – we wish them the best of luck.

Venue name:
Lezzet.Co Döner
Contact:
Address:
Valikonağı Caddesi 73/A
İstanbul


Opening hours:
Daily 11.30-22.00.