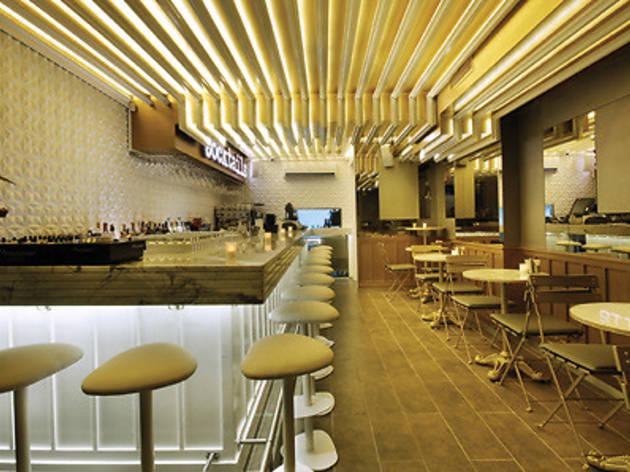 This latest venture by Mar Group (Hardal, Oktoberfest, Rigatoni, Torro) has managed to add a youthful energy to Abdi İpekçi Caddesi in a short amount of time – so much so that it's hard to find a spot here, but certainly worth a try. The interior space is only able to accommodate six or seven tables, though the white walls and white marble bar lend it a feeling of depth.
As soon as we settle down, we order the Berry Lemonade we've heard friends boast about. It's a dangerous concoction, one that masks the rum with a generous portion of raspberries, strawberries, lemon and cinnamon. Unable to get our fill, we then order the Appleade, which is a refreshing vodka-based drink with fresh apple juice and ginger. Both cocktails are priced at 30 TL.
From the tapas menu (10-26 TL), we give the smoked artichoke and avocado bruschetta and buffalo mozzarella a try. The cheese could rival those offered at the best Italian restaurants, though the bruschetta topped with only a sliver of avocado proves a bit hard to eat politely.
Lilu also specialises in sushi and sashimi, though the attempts at ebi crispy roll or the ubiquitous California roll aren't quite what they could be. The spicy tuna roll fares better, with a healthy serving of fresh tuna. The sashimis are also a mixed bag – the sake sashimi too fishy, the sakura sashimi a bit more meaty and palatable – though our favourite is invariably the volcano roll.
After dinner's over, Lilu lets her hair down to DJ performances by resident DJs Murat Tokuz and Sinan Uçan, as well as the occasional guest performer.
Venue name:
Lilu
Contact:
Address:
Abdi İpekçi Caddesi 17/1
İstanbul


Opening hours:
Mon-Sat 11.00-02.00