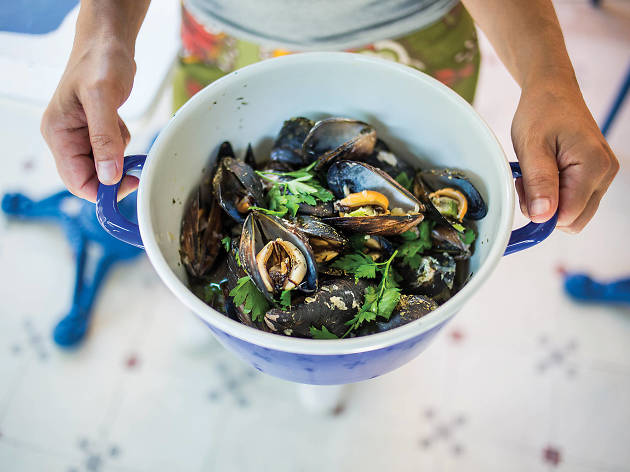 You might have noticed that for the average Istanbulite who's guided more by taste than a concern for health, midye dolma (rice-stuffed mussels on the half shell) are a dietary staple. Even as we're surrounded by seas that aren't decontaminated adequately, we still keep the tradition alive of hovering over the carts as we try to stuff as many of these tasty morsels as we can into our mouths. Still, we can hardly claim to be imaginative when it comes to how we serve mussels: we can't seem to let go of our midye tavas (fried mussels) and dolmas, while steamed mussels and stews continue to be dishes we try on our trips to Europe. But now there's a restaurant that seeks to change all that. Midye Mi? is the newest restaurant to pop up in Caddebostan, and it deserves some respect, if for no other reason than for its menu featuring both local tava and dolma recipes as well as the popular Belgian dish moules et fries.
Even though it's illegal to harvest or collect mussels from the Sea of Marmara, unfortunately there are still poachers around the city, which means there's always the risk that the mussels you eat in Istanbul come from questionable sources. According to the owners, Midye Mi? has managed to draw in the people who won't eat mussels even at fish restaurants. The mussels used in stews and casserole-type dishes come from the Çanakkale Province, while those used in dolmas are brought from the Black Sea shore. You'll find classics like balık-ekmek (fish sandwiches), midye dolma and fish soup at Midye Mi?, but we think the restaurant's true claim to fame is its casseroles and oven-baked dishes. For the moules et frites, the mussels are cooked with celery, garlic as well as herbs and spices, then served alongside sea beans and French fries. The slightly tangy flavor of the sea beans makes them the perfect accompaniment to the powerful aroma of the mussels, while the juices are so flavorful you'll soon find yourself asking for more dipping bread. It's a filling dish, ideal for two to share. If you aren't a fan of spicy foods or seafood that's still got that fresh-from-the-sea smell, you can also check out Midye Mi?'s oven-baked mussel varieties, like those with butter, cheese sauce or herb-and-cheese sauce. We hear the menu is set to undergo a few changes soon, so don't be surprised if you see new items or prices on it when you visit.
Despite being a fairly new restaurant in an area with plenty of other eateries, Midye Mi? manages to draw in the crowds, especially on Friday and Saturday nights, when the line outside the restaurant is proof that the midye dolma tradition is alive and well. Who knows, maybe you'll even break the mussel-eating record and see your name added to the commemorative plaque by the door.

WHAT IS IT…
A restaurant that serves both local and international mussel recipes.
WHY GO…
For its stews and oven-baked dishes.
Venue name:
Midye Mi?
Contact:
Address:
Beyaz Akasya Sokak 1E
Caddebostan, Kadıköy
İstanbul